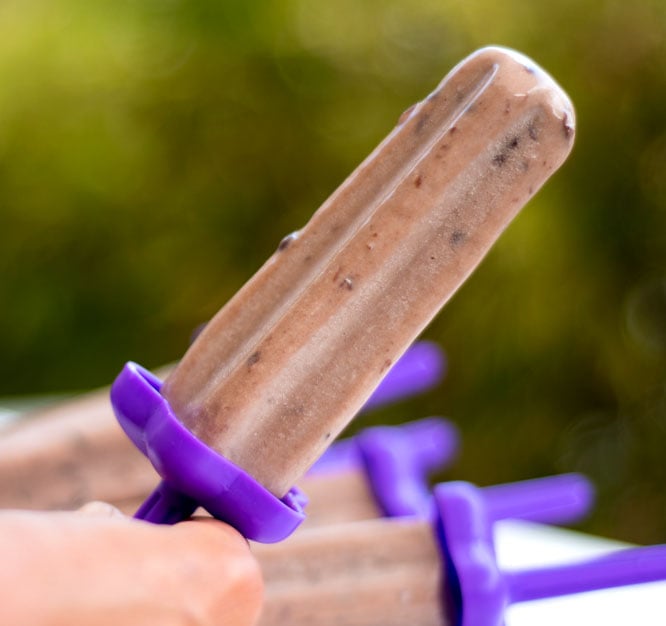 In preparation for spending nearly two months traveling, I reached out to some of my food blogger friends and asked them if they would be interested in guest posting on my site. Today's guest post is by Sun from Hungry Gopher. You may remember Sun from our collaboration earlier this year where she made my grilled watermelon salad and I wrote about her delicious Korean egg roll. Today, she's sharing a recipe for Korean Coconut Popsicles with Azuki Bean (비비빅 만들기), her favorite dessert from her childhood in Korea.
Azuki beans (or Asian red beans) are a popular ingredient in desserts across Asia, especially in China, Japan, and Korea, and they often show up in ice cream and popsicles. The most popular brand of azuki popsicles in Korea are called B.B. Big ice pops and they are a classic Korean dessert. These red bean popsicles have been around since the 1970's and are still incredibly popular in Korea.
Sun grew up eating red bean popsicles and would often buy them from the corner store in her neighborhood. Today, she is going to teach us how we can make them at home. They only take four ingredients (no artificial ingredients or fillers!) and are so simple they can be thrown together in just a few minutes.
Equipment and Ingredients
Popsicle Molds – these are Sun's favorite popsicle molds
Azuki / Red Bean Paste – make sure you get the sweetened, coarse variety
Coconut Milk – look for unsweetened, full-fat coconut milk
Tips and Tricks
Sun recommends only blending 1/3 of the red bean paste with the coconut milk. The rest is mixed in to give the popsicles their signature texture.
To remove the popsicles form the molds, loosen them by running each mold under warm water for 30 seconds and then gently use the stick to pull out the popsicle.
If you do not have popsicle molds, you can make these using small paper cups and popsicle sticks (or plastic spoons). You'll want to freeze them 3/4 of the way before adding the sticks or they won't stand up straight. Then, just tare away the paper cup before serving.
Korean Coconut Popsicles with Azuki Bean (비비빅 만들기) Recipe
[Hungry Gopher|http://www.hungrygopher.com]
Yields 4
Ingredients
1 1/4 cups sweetened red bean paste (coarse)
1 1/4 cups unsweetened coconut milk
4 teaspoon granulated sugar
1/4 teaspoon kosher salt
Instructions
Combine 1/3 of the red bean paste in a blender with the coconut milk, sugar, and salt. Blend on high until smooth.
Pour this mixture into a mixing bowl and add the remaining red bean paste. Stir well until everything is combined.
Transfer the mixture to a measuring cup with a pour spout. Fill the popsicle molds and leave 1/2 of room at the top of each mold.
Use a spoon to add any beans which settled to the bottom of the bowl.
Place the sticks in the molds and freeze them overnight or until firm.
Notes
To take the popsicles out of the molds, run each mold under hot water for 30 seconds, then gently remove.
7.8.1.2
45
https://www.thehungrytravelerblog.com/korean-coconut-popsicles-with-azuki-bean-%eb%b9%84%eb%b9%84%eb%b9%85-%eb%a7%8c%eb%93%a4%ea%b8%b0/
For more easy Korean recipes, check out: 
5 Must-Try Korean Dishes for Beginners
Hungry Gopher's Korean Cooking Show
Hungry Gopher's Simple Korean Cooking E-Book