Vietnamese Caramel Chicken — chicken thighs braised in a sweet and spicy caramel sauce with jalapeños, ginger and scallions. Serve it with steamed veggies and rice and it's a perfect weeknight dinner.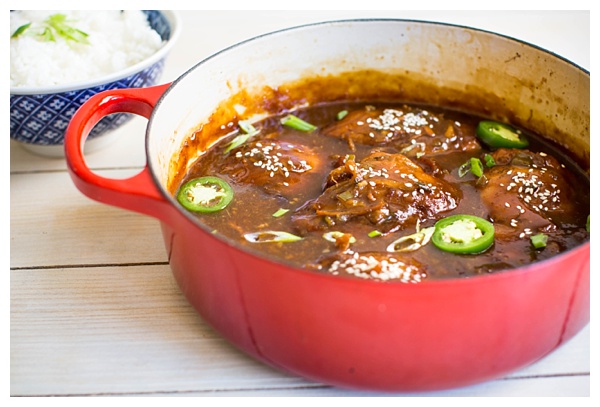 I teach baking classes at a few different cooking schools around Cincinnati. When I wanted to start teaching, I proposed a pie class and a caramel class and we went from there. Somehow I stayed in the baking 'niche' and most of the classes I teach are focused on desserts.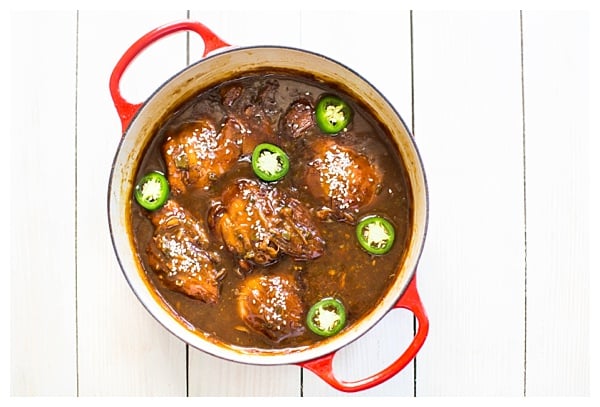 At the end of each class, students fill out evaluations to tell me what they liked or disliked. The feedback is almost always good, but I still get nervous each time that they hand me a stack of evaluations. You just never know.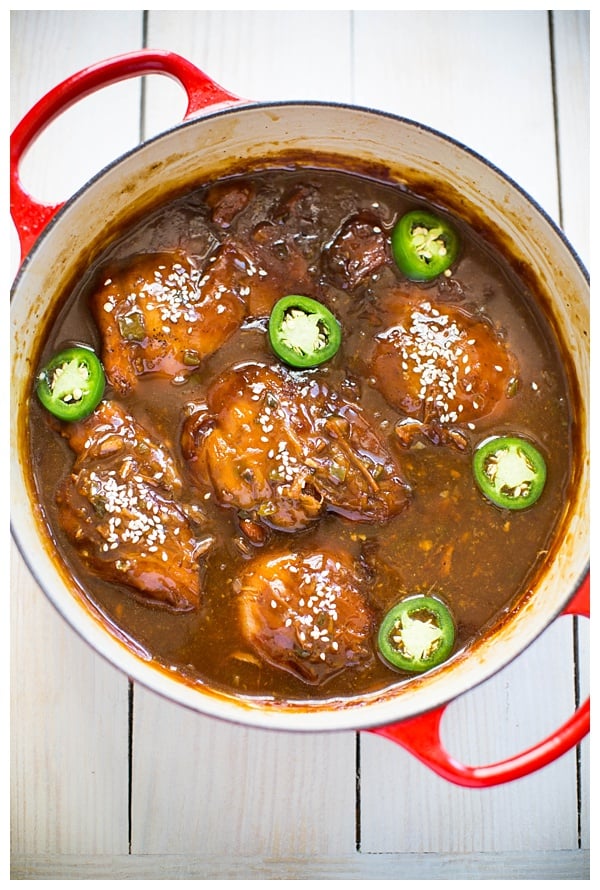 The most memorable comment I've received was on an evaluation of a caramel class. It simply said, "Too much sweet stuff!"
I was a little annoyed at first. This person did sign up for a caramel class and he/she knew what was on the menu. After thinking about it, I realized this person was right. Sugar overload is not fun (well, it is until you crash!) so I've realized that including a savory item improves the class for everyone. I try to start each class with soup or salad or find a way to tie a savory item into the theme of the class.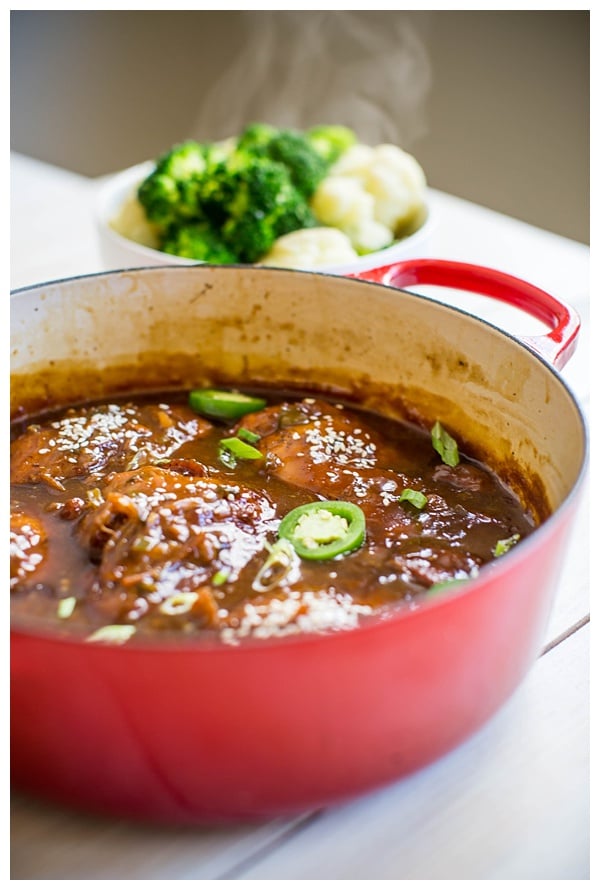 The next time I taught a caramel class, I added this Vietnamese caramel chicken to the menu. I thought it was a nice addition but didn't expect it to compete with salted caramel sauce and Cuban flan. Surprisingly, it was the star of the class. Out of any recipe I've taught, I've had the most students email me and tell me they made this dish for their families.
It's even a good weeknight recipe. It comes together quickly, only needs one pot, and is a great dinner with steamed rice and veggies.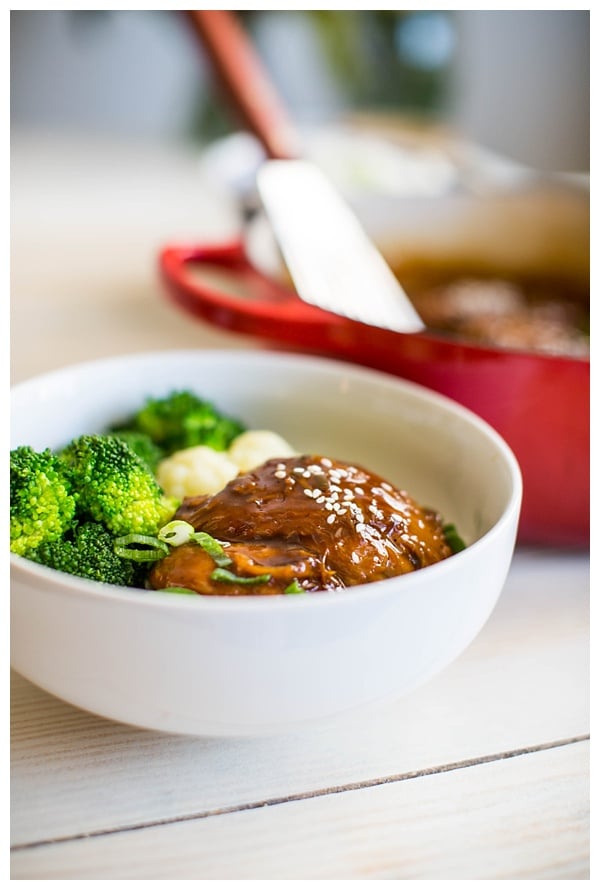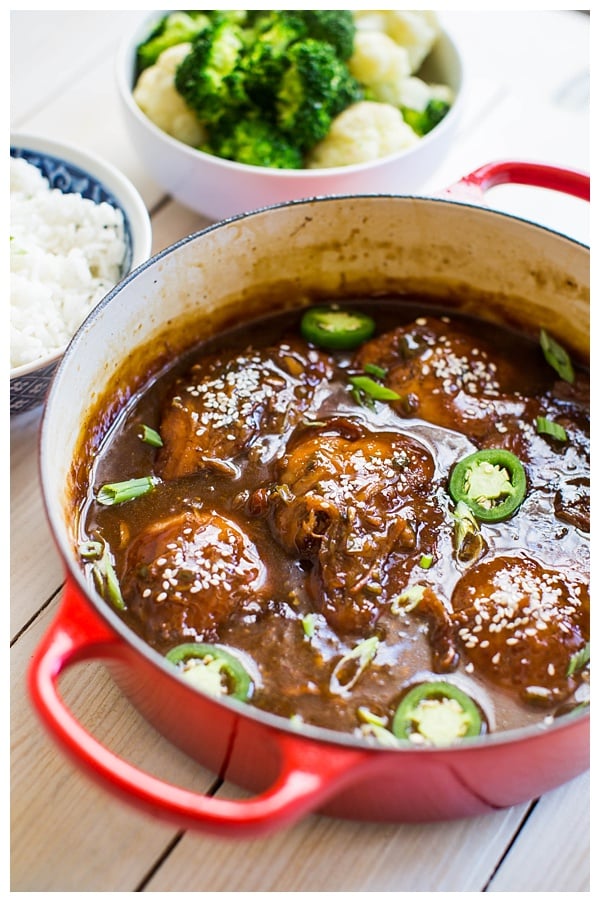 Vietnamese Caramel Chicken Recipe
Jordan Hamons
Yields Serves 3-4 people
Vietnamese Caramel Chicken
Ingredients
Vegetable oil
6-8 boneless, skinless chicken thighs
Kosher salt
Black pepper
6 cloves garlic, finely diced
3 tablespoons finely diced shallot
2 jalapeños, seeds and ribs removed, thinly sliced
2 tablespoons peeled and minced fresh ginger root (from about a 2-inch piece)
2 cups chicken stock, divided
3/4 cup packed light brown sugar
1/2 cup unseasoned rice vinegar
1/2 cup low sodium soy sauce
1 tablespoon cornstarch
3 tablespoons water
4 scallions, thinly sliced, dark green parts only
2 tablespoons toasted sesame seeds
Steamed white rice, for serving (optional)
Instructions
Heat 2 tablespoons oil in a large dutch oven over medium-high heat.
Pat the chicken dry with paper towels and season with the salt and pepper.
Working in two batches, sear the chicken in the hot oil. Let it cook for 3-5 minutes per side, or until golden brown. Transfer to a plate.
Pour off excess fat so there are about 2 tablespoons of fat left in the pot.
Add the garlic, shallots, jalapeños, and ginger to the pot and let cook until slightly softened and fragrant.
Add 1 cup of the chicken stock to the pot and scrape the bottom with a spatula or wooden spoon to release the browned bits. Add the sugar and stir to dissolve. Let the mixture cook until it reaches a deep amber color and is slightly thickened.
Add the remaining stock, vinegar and soy sauce and return the chicken to the pot.
Bring the mixture to a boil, reduce heat, and let simmer for 20-35 minutes. The chicken should be cooked through or register 165 degrees F on a digital thermometer.
Transfer the chicken to a plate and bring the sauce to a boil. In a small bowl, whisk together the cornstarch with 3 tablespoons of water. Whisk the cornstarch mixture into the sauce and turn the heat down so the sauce is at a simmer. Let cook for 3 minutes or until slightly thickened so it will coat the back of a spoon. Return the chicken to the pot and turn it to coat with the sauce.
Serve over white rice and garnish with the scallions and sesame seeds.
7.8.1.2
73
https://www.thehungrytravelerblog.com/vietnamese-caramel-chicken/