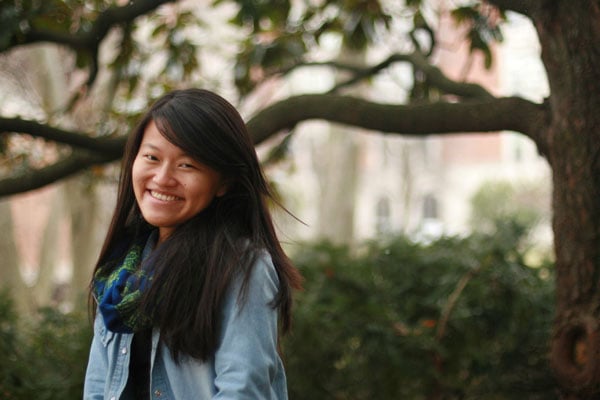 Jess and I met in college when we were members of the same sorority, Theta Phi Alpha, at the University of Cincinnati.  We quickly realized our shared love of food and travel and became fast friends.  Jess was always ready to join me in trying a new restaurant or spending the day cooking or baking together (I miss this now that we live on opposite sides of the country).  I've always been fascinated by her background and interesting travel experiences and I asked her if I could interview her to find out more about her time living in Taiwan, her travels throughout Asia, and her favorite food memories from throughout the world.
Q. Let's start with some background.  Can you tell us about yourself?
I was born in New York City but my parents felt strongly about preserving my appreciation for the Taiwanese culture and sent me back to Taiwan to live with my grandparents until I was 7 years old. During those years, I traveled back and forth between the United States and Taiwan to visit my parents. When I finally moved back to the US, I was in second grade and didn't speak a word of English. Fast forward 10 years and I chose to go to school at the University of Cincinnati to study design. During my time at UC, I participated in study abroad and co-op programs that gave me opportunities to live in Chicago, Dallas, Tokyo, and Taipei.  After graduation, I moved to San Francisco where I live currently and work as a research and user experience designer.
Q. You've lived a lot of places.  Taipei, Pittsburgh, NYC, Cincinnati, Chicago, Dallas, Tokyo, and now San Francisco.  Can you tell us about the food culture in each place?  
A. This is a tough one. I think all of these places have amazing food and are all unique in their own ways.
Taiwan –  Taiwan is best known for their xiaochi, roughly translated as small eats. I might be biased but I think everyone can find something they love to eat in Taiwan. Taiwanese cuisine has been influenced by so many cultures; the most prominent being Chinese, Japanese, and Spanish, as Taiwan has previously been occupied by all three countries. Today, Taiwan is predominantly inhabited by immigrants from mainland China but is home to people from all over the world.
Pittsburgh – I lived in Pittsburgh for 10 years and my family still lives there. I always thought it was a boring town and it wasn't until I left for college that I really started to see its charm. I would say that Pittsburgh is most famous for the Primanti Brother's sandwich. It consists of your choice of meat, cole slaw, and fries sandwiched between two slices of thick sourdough bread. I'll be honest, the first time I had it I found out it was way too much for me. If you're a meat and potatoes kind of person, this is definitely the sandwich for you. Another food that I think Pittsburgh does extremely well are pierogi, which are well represented by the large community of Polish immigrants in Pittsburgh.
New York City – New York City, oh where do I even begin? One of my favorite cities,  New York City has so much amazing food that my family used to make the 8 hour trip from Pittsburgh a few times a year just to eat for a day. When my family made those trips while I was a kid, we always went to Chinatown and Flushing, Queens. It fulfilled our craving for traditional Chinese food until our next trip to Taiwan. Since those family trips, I've traveled to NYC many times on my own and have discovered so much more outside of the Asian cuisine of the city. Some absolute favorites of mine include Cafe Mogador (best mediterranean food I have EVER had), Pouring Ribbons (great cocktail bar), and Tompkins Square Bagels (California doesn't know what a bagel is, so sad).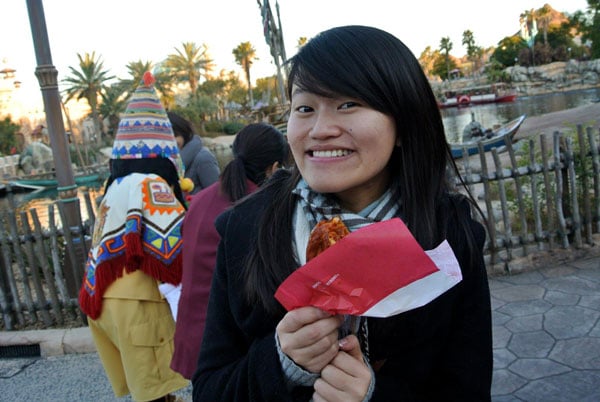 Jess at Tokyo Disneyland
Cincinnati – It wasn't until my last few years of school that I really saw the beauty of Cincinnati. It is rich in history and continuing to grow and develop into a vibrant lively town. I have so many favorites in this city but my must-have when I'm in town is The Eagle in Over the Rhine. I have LOVED everything I've tried there but the key for me is the spicy honey syrup they serve with the fried chicken. SO GOOD. I also really enjoy craft beer and Madtree beers are something I look forward to when I'm in Cincinnati.
Chicago – Chicago is definitely a food city.  There are so much great food to eat in Chicago and I find that the food scene is more truly American and Midwestern-influenced as compared to some of the other cities I've lived in.  One of my favorite places is a small locally owned mom-and-pop style Thai place called Sticky Rice that serves the best pad thai I've ever had.
Dallas – I only lived in Dallas for a few months but the one dish that sticks out to me is the chicken and waffle at Whiskey Cake. The sausage gravy just makes the dish.  The namesake whiskey cake is really delicious too. Oh, and the best sandwich I've ever had was at Patina Green in McKinney, Texas.
San Francisco – What really stands out to me is the amount of Asian and Hispanic influence in the food here. I see sushi bars, burrito joints, and taquerias everywhere.  The one restaurant I've really fallen in love with is Kanishka's Neo-Indian Gastropub, a small restaurant that serves Indian tapas and great beers.  Every dish has so much flavor and you can tell how the chefs work with the spices and put a great deal of thought and care into every dish.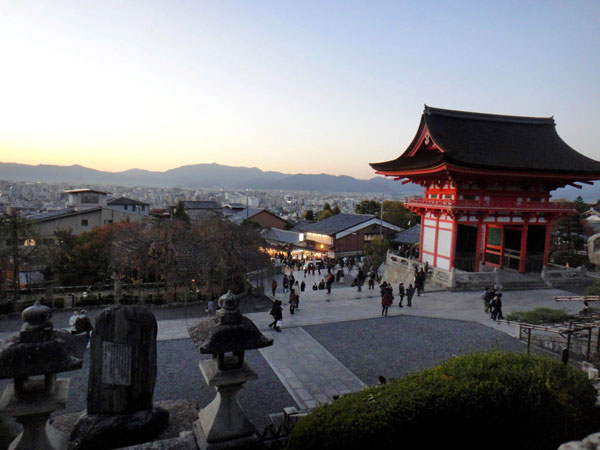 Kyoto, Japan
Q. You lived in Taiwan with your grandparents until you were 7 years old.  What are some of your favorite food memories from this time? 

A.  To me, the reason why I'm so obsessed with food is because of the experience that it brings people. The way a flavor reminds me of a place, a time, or a memory. It's like a time machine in a spoon. Magic.
I never had baby food when I was little.  My grandma would just cut whatever she was eating into tiny pieces and I think that's why I will eat just about anything today.  I'm not afraid of eating offal or other foods people might find unappetizing.  I have vivid memories of my grandma roasting chicken and running into her kitchen so she would give me pieces of chicken right off the bone.
I also ate ba wan, a sort of Taiwanese meatball,  all of the time. A little truck would drive around selling them for maybe 30 cents each.  Ba wan are basically meatballs covered in a thick starchy coating (kind of like a dumpling) and they came in a little bowl and would be cut into multiple pieces to share, then topped with orange sauce, cilantro, and hot sauce.
Q. What was it like growing up with your parents owning a Chinese restaurant?  How has this impacted who you are today?
I started helping in the restaurant when I was in 3rd grade. I had a little stool and would help pack the take out and scoop rice into containers.  It helped me develop a work ethic and was rewarding to have to work for everything.  It was annoying at times, especially in high school when I wanted to go out on the weekends but had to work instead.  But growing up in the restaurant is what started the love for food and cooking I have today and makes me appreciate what I eat and the care that goes into making it.
Q. What was it liking moving to the United States? 
I moved here when I was 7 years old. I didn't speak English but I was so young that I wasn't embarrassed to try to speak the language.  I basically spoke in Chinese and communicated by pointing and just playing with my friends.  We were just kids so the language barrier didn't matter and I ended up picking up English quickly.
Q. What would you consider your top dining experience?  
A. Sushi Dai in Tsukiji Market – The 3.5 hour wait was SO worth it. It's the absolute freshest seafood you will ever eat. Although, I will say that when they ask if you have any specifications on what you don't want to eat, you may consider telling them you don't what to eat anything that's still alive.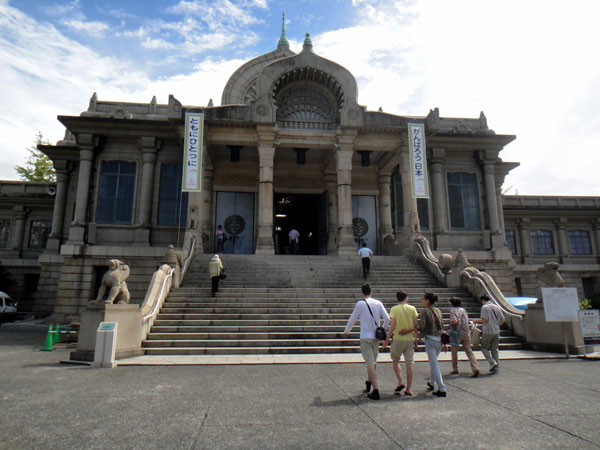 Temple near Tsukiji Market
Q. Travel Dream List.  Where are you dying to go?
A. London, Paris, Italy, Spain
Q. What is your food philosophy when you travel?
A. I try everything short of dog, cat, and bugs. I know bugs are really good for you and high in protein but they freak me out. Try your best to meet locals. Strike up a conversation with someone at a local coffee shop or chat with people dining at the table next to you. Chances are they'll be more than thrilled to tell you about the best in their city.
Q. Do you have any helpful advice for eating in Asia? Any tips for proper etiquette?
A. In Japan, don't ask for a doggie bag if you have leftovers. It's just not something they do. Although it's highly unlikely that you'll have anything to take home since the portions are very small.
Kyoto
Q. Tell us about living in Japan. 
A. Japan was an out-of-this-world experience. I had a really hard time adjusting to it at first with the cultural differences and a major language barrier. It's very different from western culture, and even Chinese culture, and I knew no one to help me adjust.
The top three things I miss about Japan are the high-speed trains, onigiri (rice balls stuffed with various sweet and salty ingredients), and onsens, Japanese hot springs.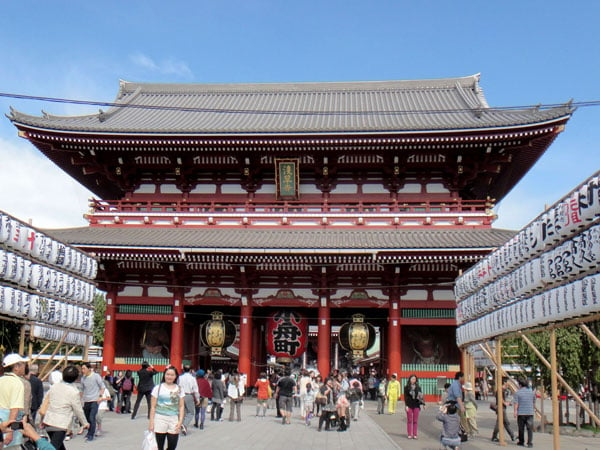 Q. Do you have a go-to airport snack?  What is your strategy for eating on long-haul flights?
A. Don't eat anything too heavy. Pack your own food, which will be much better than the food served on the plane (unless you're in first class), but make sure it doesn't have a heavy smell, even if it's a really good one. You're on a plane with minimal ventilation, save yourself the glares and be courteous to your fellow passengers. When in doubt, cup noodles never fail, just ask for hot water on the plane.
Q. What are your travel essentials?
A. A deck of cards, a good book, headphones, Allegra, Aleve, and wet wipes (they come in handy often!)
Q.  What foods would you recommend first-time visitors try in Taiwan?
A. Taiwanese beef noodles from Tao Yuan Street Beef Noodle, stinky tofu, ba wan, and xioachi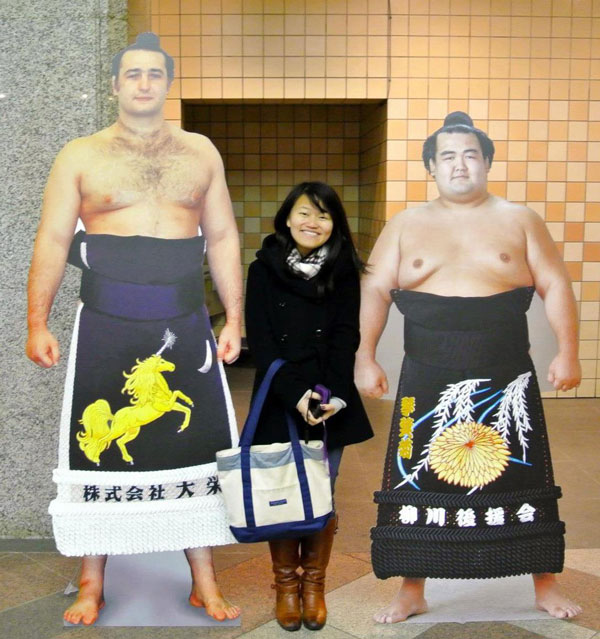 Q. Are there any stereotypes you hear about Asia or Asian food that drive you crazy?
A. That I eat dog and cat.  I know this might happen in some rural parts of Asia, but I don't eat dog or cat, nor do I know anyone who does.
Q. I know you have a sweet tooth and love to bake. Tell me about some of the best desserts you've had around the world.
A. Harbs Cake – Harbs is a bakery chain around Japan with gorgeous cakes that taste amazing. They do Japanese spins on classic European desserts and pastries.
Melonpan – These are massive buns commonly sold in Asian bakeries. The bread is crunchy on the outside but soft and airy on inside and somewhat resembles a melon. The best melonpan I've ever had was in Tokyo near Asakusa from a nameless window stall where they make 2,000 a day but still sell out in the early afternoon.
Cantonese or Hong Kong Egg Tarts are popular throughout Asia. In this classic dim sum dessert, puff pastry is filled with a light custard and baked in small tart forms until just set. Egg tarts became a sort of phenomenon in Asia. I remember being in Taiwan when KFC first released their version and people would line up to get them, just from KFC!!
The famous cake from Harbs Bakery in Japan
Jess Chen was born in New York but lived with her grandparents in Taiwan until she was 7 years old. She then grew up in Pittsburgh and went to college at the University of Cincinnati. She has lived and worked in Chicago, Dallas, New York, and Tokyo. She currently lives in San Francisco and works as a research and user experience designer. She enjoys eating, baking, and good beer. You can find her on Instagram at @just_chen. 

If you liked this post, you may also enjoy The Hungry Traveler Interview with Hannah Casey – An American Expat in Dubai.