In preparation for all of my travel this fall, I've reached out to some of my favorite food blogger friends and asked them to share their favorite recipes as guest posts. 
Today's guest post is from Jane Bonacci of The Heritage Cook. On her blog, Jane shares both old and new recipes in hopes that culinary traditions will continued to be passed down from one generation to the next. 
Today, in tribute to her home state of California, Jane is sharing a healthy, wholesome recipe for vegetable and shrimp stuffed avocados. Last month, Jane shared her famous ranch-flavored cole slaw recipe and a recipe for the incredible fully loaded green chile potato skins so be sure to check those out too! 
---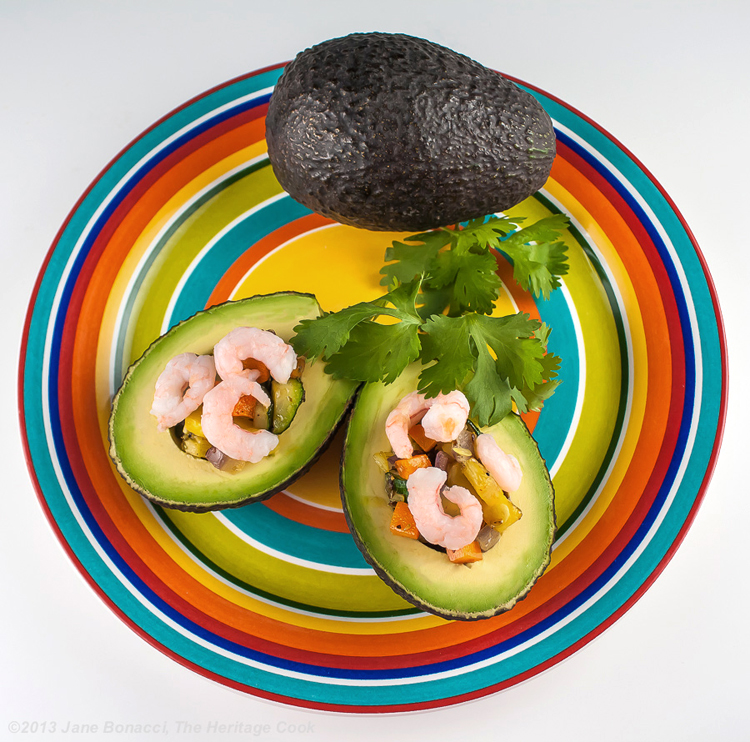 A few weeks ago a friend of mine contacted me asking for help creating a menu. She and her family were vacationing in Maine for the summer and she wanted to create a California-style meal as a thank you to their hosts. What a fun project!!
To me California foods are all about using what is in season and serving it fairly simply – letting it shine. What is abundant here in the summer? Artichokes and avocados immediately came to mind and of course anything that uses Mexican flavors. So many options, now just to narrow them down.
What about using avocados as the "dish" for some sauteed vegetables and shrimp? Yep, that's a winner!
That's right, today we are all celebrating the ugly duckling of the fruit world. With its black and bumpy skin, from the outside it is absolutely nothing to look at but once you open it up, the creamy green goodness is intoxicating and addicting.
Most people turn it into guacamole (which I love), but today I thought we would just enhance its natural beauty with some lightly sauteed vegetables and bay shrimp, letting it shine in a totally indulgent fashion!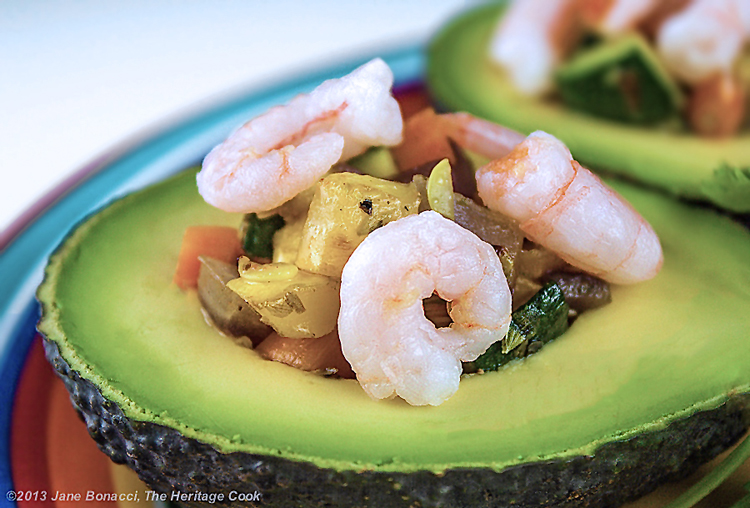 Actually, you could stuff the avocados with anything you like, but this combination gives you lots of flexibility and is totally dependent on what you already have in the refrigerator. Unless your veggie drawer is totally empty, you probably have just about everything you need.
These stuffed avocados make a lovely summertime lunch entrée or can be used as a first course for dinner. You can also use this as a side dish. If you are not serving these immediately, rub the cut sides of the avocados with the lemon to help keep them from oxidizing.
If you want to serve this as a vegetarian/vegan luncheon entrée, just leave off the shrimp. Snap, snap, you have an instant solution to hosting someone who doesn't eat meat, is allergic to dairy products or is gluten-intolerant!
Enjoy!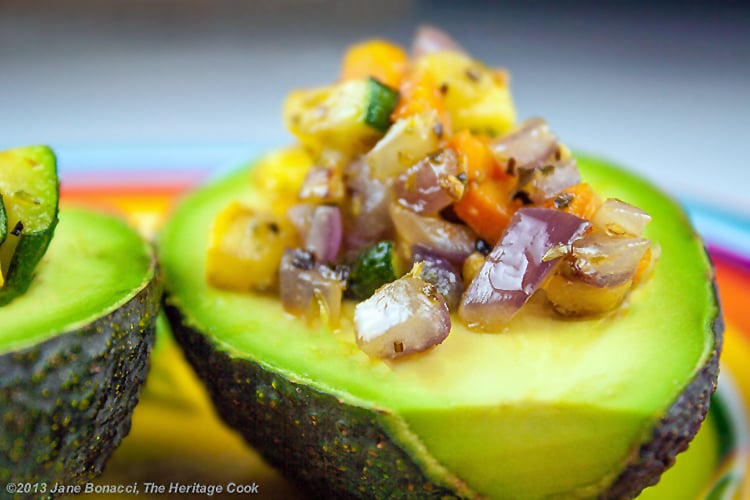 Vegetable and Shrimp Stuffed Avocados Recipe from The Heritage Cook
© 2013 Jane Bonacci, The Heritage Cook. All rights reserved.
Jane Bonacci | The Heritage Cook
Yields 4
© 2013 Jane Bonacci, The Heritage Cook. All rights reserved.
Vegetable and Shrimp Stuffed Avocados
Ingredients
2 tablespoons high quality olive oil
1/2 red onion, peeled and finely chopped
1 zucchini, minced
1 yellow crookneck squash or yellow zucchini, minced
2 carrots, peeled and minced
2 stalks celery, trimmed and minced
1 to 2 teaspoons oregano, thyme, ground cumin, or other favorite herb
Salt and freshly ground black pepper, to taste
4 ripe avocados
1/4 lb cooked bay shrimp, rinsed well and patted dry with paper towels
2 fresh lemons, cut into wedges
Instructions
In a 10-inch skillet, heat olive oil over medium-high heat. When oil is shimmering, add chopped vegetables, oregano and salt and pepper. Toss until everything is evenly coated with oil and seasonings are distributed. Cook, stirring often, until just starting to soften, about 3 minutes. Remove from the heat and set aside to cool slightly. Don't overcook them - you want them still slightly crunchy to offset the creaminess of the avocado.
Cut the avocados in half lengthwise and twist open. Pop the seeds out of the centers and discard (see Kitchen Skill above). Cut a very thin slice off the rounded sides of the avocado halves, creating a stable bottom so they won't wobble on the plate. Place two halves on each serving plate.
Rinse shrimp well and pat dry with paper towels. Add to the vegetables in the skillet and toss until evenly distributed. Using a small spoon, fill the centers of the avocado halves with the vegetable and shrimp mixture. Squeeze a little fresh lemon juice over the top. Add a couple of lemon wedges to each plate and serve immediately.
Notes
© 2013 Jane Bonacci, The Heritage Cook. All rights reserved
Make Ahead: You can prep and sauté the vegetables up to several hours in advance. Cool, cover and refrigerate. Rewarm over low heat, adding a splash more olive oil if needed.
7.8.1.2
47
https://www.thehungrytravelerblog.com/vegetable-and-shrimp-stuffed-avocados-from-the-heritage-cook/
For more of Jane's recipes, visit The Heritage Cook.