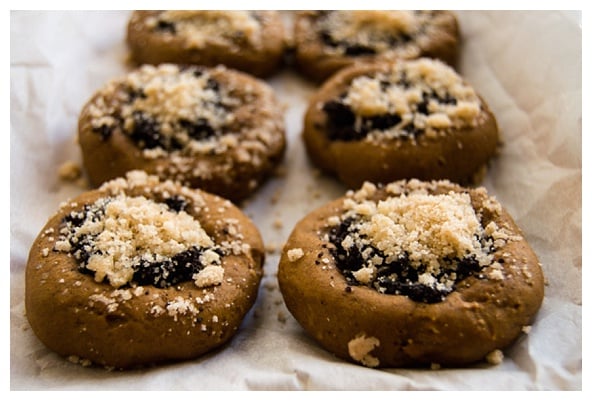 Sometimes I'm amazed at the taste memories that stick with me long after I travel. Some of them are expected: fish and chips in London, Peking duck in Beijing, tapas in Barcelona.
Other times, I'm caught by surprise when I'm still thinking about certain foods months or years after tasting them. These Czech gingerbread kolache are an example of just that.
A few months ago, I took a tour with Eating Prague Food Tours. Our first stop was at a shop called Perníčkův sen (translated to A Gingerbread Man's Dream).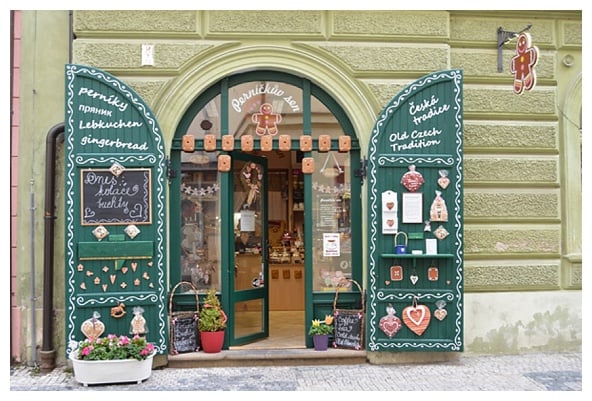 The shop, like much of Prague, is picturesque and fairy-tale like. Run by two sisters-in-law, the bakery is putting forward their best effort to revive Prague's gingerbread tradition. They offer authentic gingerbread made with just nuts, honey, butter, and plenty of spices. Perníčkův sen serves different regional varieties of gingerbread and is especially known for their poppy seed kolache (the round cookie on the plate of cookies pictured below).
As I often find with European pastries, the cookies were simple and showcased the pure taste of the high quality ingredients. The deep, savory flavors of the nuts and spices were not dumbed down with a bunch of sugar, as I sometimes find in American cookies.
All of the cookies I tried were delicious but the poppy seed kolache were the standout. I'm not sure why, but we don't use poppy seeds very much in American baking. Sure, you'll see them in the occasional muffin or in salad dressings, but poppy seeds are much more abundant in European baked goods. I fell in love with these kolache and the contrasts of the spicy gingerbread base, flavorful poppy seed filling, and sweet streusel. This is the kind of cookie that leaves you craving another bite and that's what many chefs consider the indicator of a quality baked good.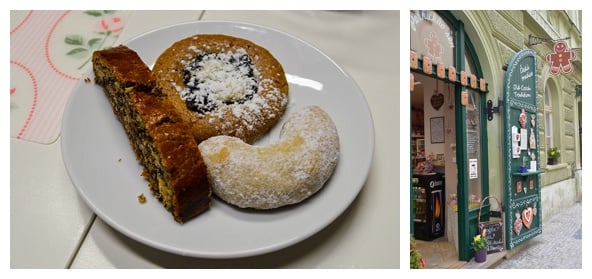 As soon as we left the shop and headed to our next tour stop, I immediately regretted not buying some cookies to take with me. I tried to make it back (it was less than a two minute walk from our Airbnb!) but they were closed by the time I returned and we had an early train to Vienna the next morning.
I haven't stopped thinking about the Czech gingerbread kolache with the poppy seed filling so I decided to do my best to replicate the recipe. I started with my favorite gingerbread recipe (a bit softer than what is traditional in Prague), filled each cookie with a simple poppy seed filling (recipe provided by my wonderful tour guide Jan), and sprinkled some streusel on top.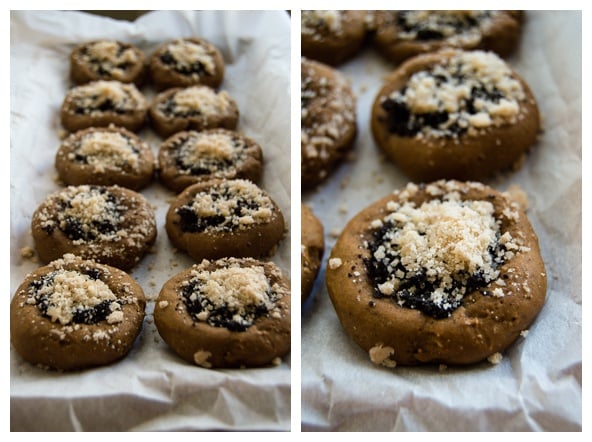 Czech Gingerbread Kolache Recipe
A few tricks and tips…
I started by making the gingerbread dough and then made the poppy seed filling and streusel while the dough was resting.
A spice grinder and a cookie scoop will make your life easier and ensure the best results.
Any flavor of jam can be used in the poppy seed filling recipe, but plum is traditional.
Penzey's is my favorite resource for quality spices and large quantities of poppy seeds.

Jordan Hamons | The Hungry Traveler
Yields 36
Czech Gingerbread Kolache
Ingredients
For the Gingerbread Dough:
6 cups (750 grams) all purpose flour
1 cup (96 grams) almond flour
2 teaspoons baking soda
1 teaspoon ground cloves
2 teaspoons ground cinnamon
2 tablespoons ground ginger
1/2 teaspoon ground coriander
1 teaspoon ground allspice
1 teaspoon ground nutmeg
1/2 teaspoon ground mace
1/2 teaspoon kosher salt
1 teaspoon lemon zest (from about 1 large lemon)
1 teaspoon orange zest (from about 1 medium orange)
1/2 cup (114 grams) unsalted butter, softened
1 cup (200 grams) firmly packed dark brown sugar
1 cup unsulphured molasses
1 cup (237 grams) water

For the Poppy Seed Filling:
1 cup (150 grams) whole poppy seeds
1 cup whole milk
3 tablespoons (39 grams) granulated sugar
1 tablespoon plum jam
1 teaspoon vanilla extract
1/4 teaspoon kosher salt

For the Streusel Topping:
1/4 cup (30 grams) all purpose flour
1/4 cup (50 grams) granulated sugar
1 teaspoon kosher salt
1/4 teaspoon ground cinnamon
2 tablespoons unsalted butter
Instructions
To make the gingerbread dough:
In a medium bowl, whisk together the all purpose flour, almond flour, baking soda, cloves, cinnamon, ginger, coriander, allspice, nutmeg, mace, salt, lemon zest, and orange zest.
In the bowl of a stand mixer fitted with the paddle attachment, on medium speed, beat together the butter and brown sugar until smooth and creamy, about 2 minutes. Scrape down the sides of the bowl.
With the mixer on, slowly stream in the molasses and beat on medium speed until incorporated, about 30 seconds. Scrape down the sides of the bowl.
Add 1/3 of the flour mixture and mix on low speed until just incorporated. Add 1/2 of the water and mix until just incorporated. Scrape down the sides of the bowl. Add another 1/3 of the flour and mix until just incorporated. Add the remaining water and mix. Scrape down the sides of the bowl. Add the remaining flour and mix until just incorporated. Scrape down the sides and bottom of the bowl, paying careful attention to incorporate any loose bits stuck to the bottom. Mix on low for 15 seconds to ensure everything is homogenous and incorporated.
Cover the mixer bowl and the dough with a sheet of plastic wrap. Refrigerate for at least 1 hour (preferably longer if you have time) or up to three days.
While the dough is chilling, make the filling and streusel topping.

To make the poppy seed filling:
Grind the poppy seeds in a spice grinder or a high powered blender.
Combine the poppy seeds, milk, sugar, plum jam, and salt in a medium saucepan. Simmer over medium heat, stirring occasionally, for about 30 minutes or until the mixture has thickened. Add the vanilla and let cool for 5 minutes.

To make the streusel:
In a medium bowl, mix together the flour, sugar, salt, and cinnamon. Use a fork to cut in the butter until fine crumbs form.

To assemble the cookies:
About 30 minutes before baking, set an oven rack in the middle of the oven and preheat the oven to 350 degrees. Line two cookie sheets with parchment paper and set aside.
Remove the dough from the refrigerator. Using a cookie scoop or a tablespoon, form balls of about 1 tablespoon each. Place each ball on the prepared baking sheet about 2 inches apart. Use your thumb (dip it in water or spray it with cooking spray) and press down in the center of each ball to create an indentation about 1 inch wide and 1/2 inch deep. Repeat with all of the dough.
Spoon 1/2 teaspoon of poppy seed filling into each indentation. Sprinkle the streusel evenly over top of the cookies.
Bake the cookies for about 8-10 minutes or until puffed and set. They will still be soft but will harden slightly as they cool. Let cookies cool on the pan for 5 minutes and then use a pancake turner to lift the cookies to a wire cooling rack.
Notes
If you do not want to use almond flour, increase the all-purpose flour by 1/2 cup (63 grams).
Any flavor of jam can be used for the poppy seed filling but plum is traditional.

Storage
Store the cookies in an airtight container for up to one week
You can freeze the raw gingerbread dough in a disk for up to three months. When ready to bake, thaw the dough in the refrigerator until it is soft and pliable, then continue with the recipe, making the filling and streusel fresh.
7.8.1.2
56
https://www.thehungrytravelerblog.com/czech-gingerbread-kolache/
If you're planning a trip to Prague, I highly recommend taking a
Prague food tour
with Eating Prague tours. My time spent with them was the highlight of my stay in Prague. I learned about Czech cuisine and history, ate so much delicious food, and had an absolute blast.
Use code "Jan" at checkout for a 10% discount. 
---
If you enjoyed this post, you may also be interested in these holiday recipes:
Christmas Ham and Cheese Sandwiches
---
If you enjoyed this post, click here to subscribe to my mailing list and receive future recipes and travel posts in your inbox.
Thank you so much to Eating Europe Tours for sponsoring this post. I had a wonderful time on their food tours in Amsterdam and Prague. Be sure to check our their food tours if you're visiting Prague, London, Rome, or Amsterdam.