Prague Beer Tour — The best beer and the best places to drink beer in Prague! This tour is a must for any beer lover visiting Prague!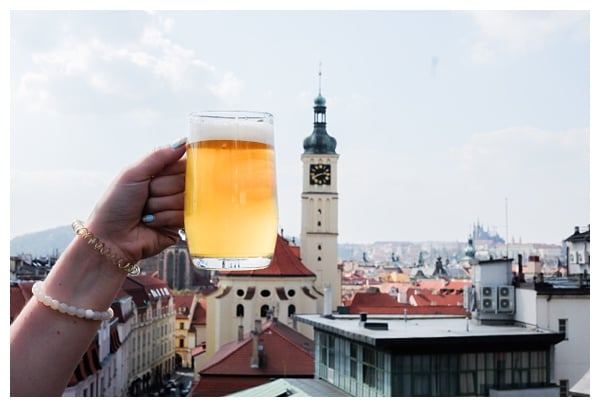 On my last visit to Prague, the highlight of the trip was my Prague Food Tour with Eating Europe. When I returned to Prague this spring, I was thrilled to find out that Eating Europe was offering Brews and Views, a Prague Beer Tour.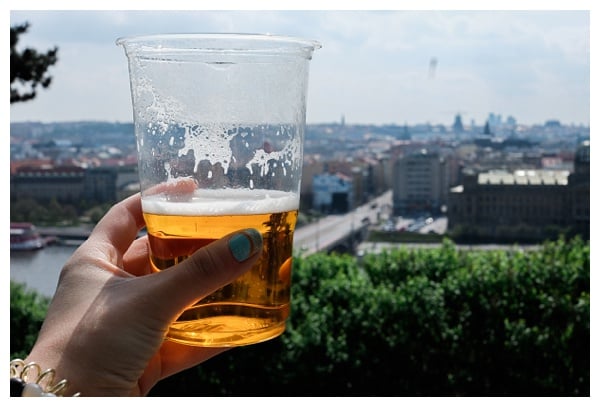 We met our wonderful tour guide, Jan, at Letná Beer Garden, one of Prague's most popular beer gardens. It was a beautiful Sunday afternoon and the park was filled with locals hanging out and enjoying the beer.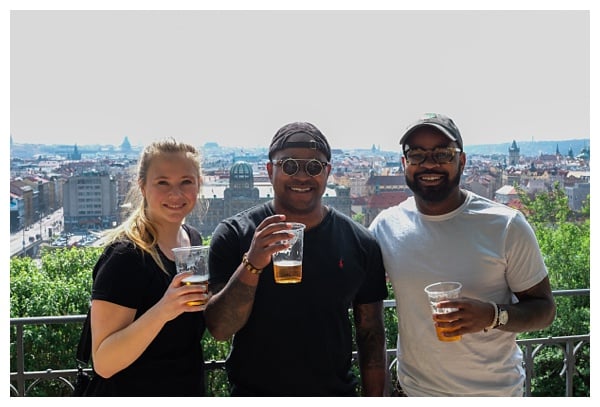 We started with our first beer which was one of Prague's most popular pilsners. This beer is similar to our Bud Light or Miller Light, but with a much better flavor. It's delicious and the perfect warm weather, easy drinking beer. The beer garden was relaxing and the views were spectacular. We could have spent all day here… but we were on a beer tour and it was time to move to the next stop.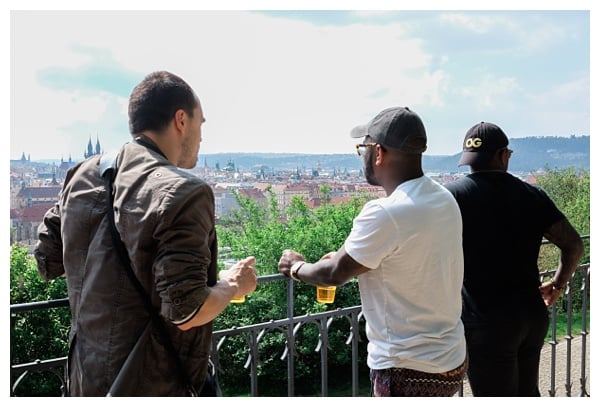 Our second stop was at Lod Pivovar, a brewery boat! The craft brewery scene has exploded in Prague and this brewery boat is one of the best examples.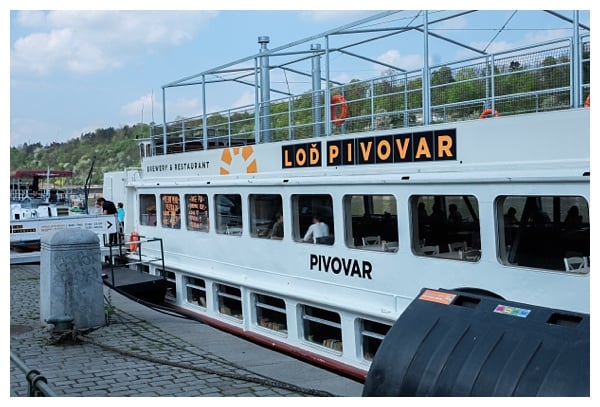 Jan ordered us the dark beer that the brewery is known for and a lighter beer too.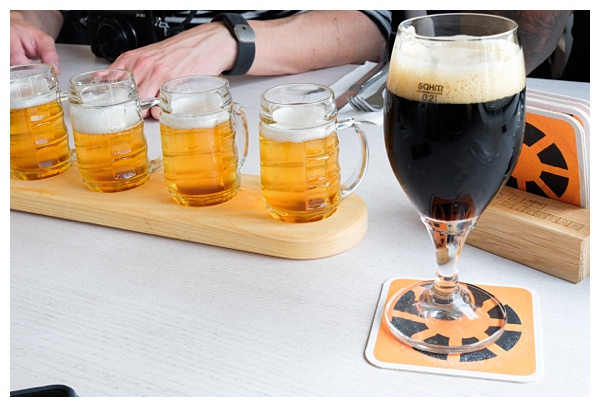 The brewery is also known for their food. We tried the pickled fish cakes. I was a little nervous about these… something about fish cakes is off-putting to me. However, the flavor was mild and they were really quite good!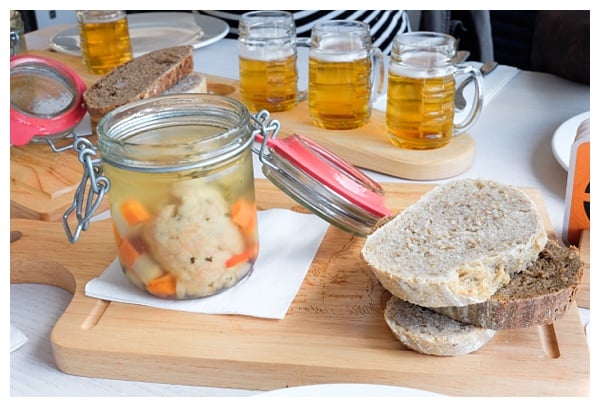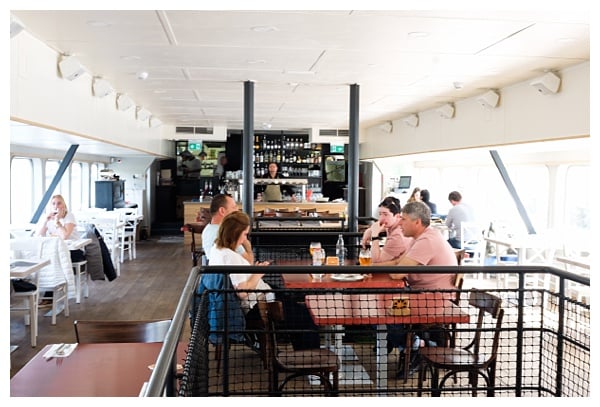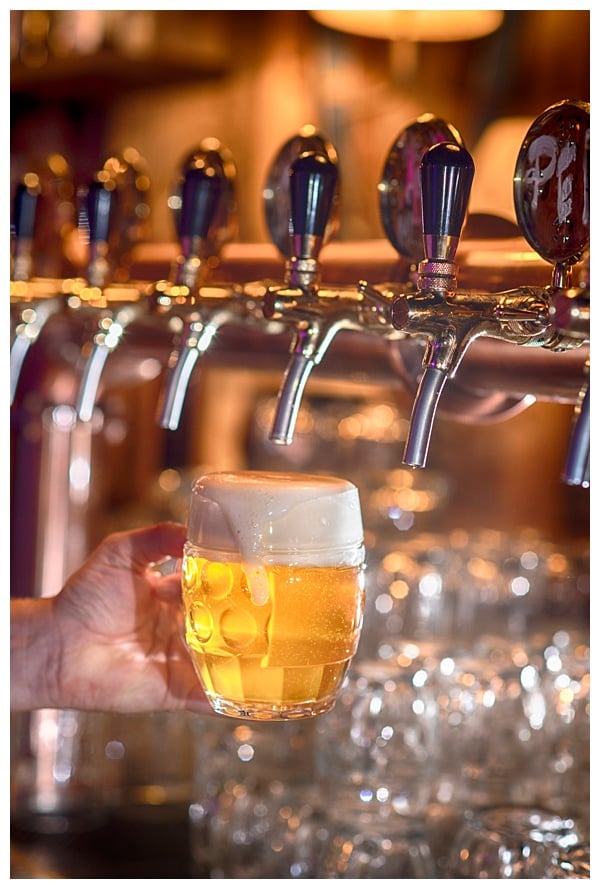 Our next stop was one of the best parts of the tour. It's a cafe called Maso a Kobliha which translates to Meat and Donut. As the name suggests, they serve English pub food and donuts.
When Jan called ahead to tell them we were on the way, we found out they were closed for a private event. They told us to come anyways and we could eat in the courtyard.
They normally serve scotch eggs on the tour, but they weren't making them that day. Instead, we got their speciality doughnut. It was one of the best doughnuts I've ever had and it paired perfectly with the beer.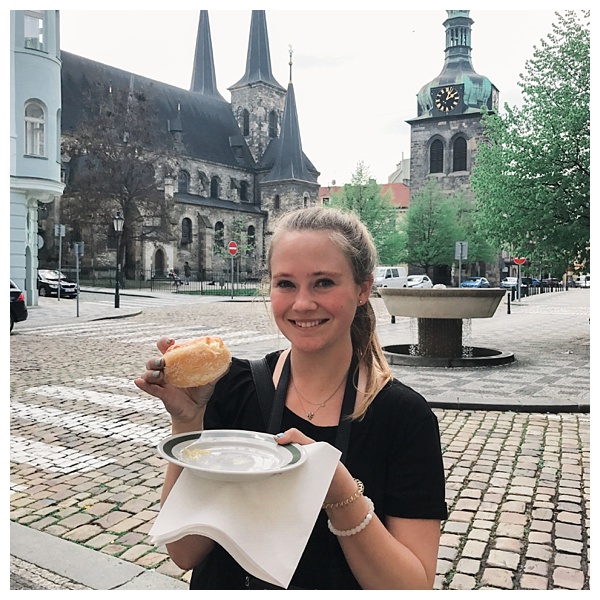 As a special treat, we even got to hang out with Chef Paul Day. He is also the chef-owner of Sansho, Prague's famous award-winning Asian restaurant, and The Real Meat Society, an organic butcher.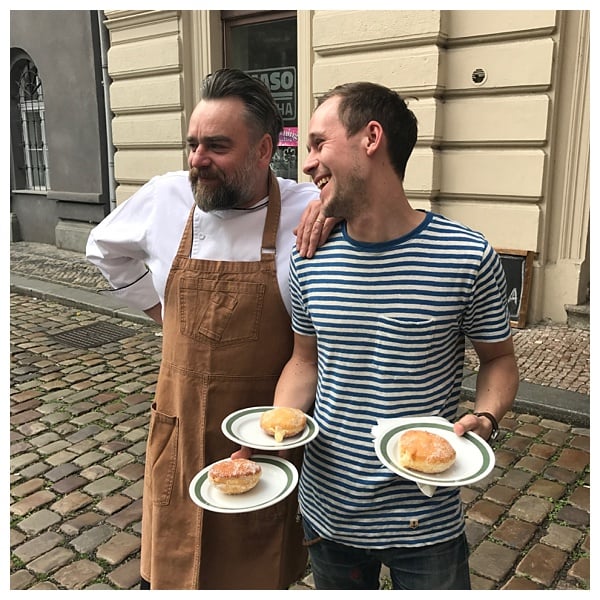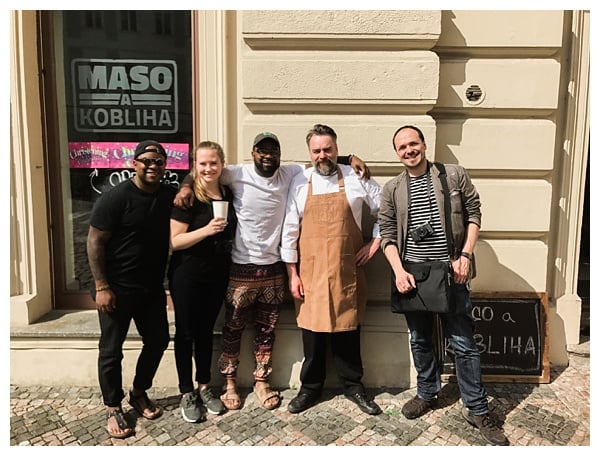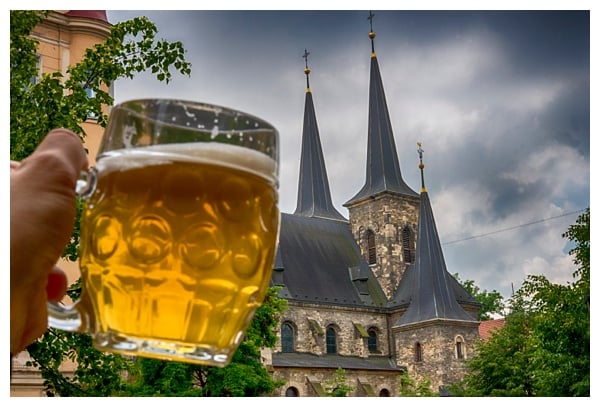 Our next stop is home to one of the best views in Prague. T'Anker is a must for every visitor to Prague. It's absolutely magical and you'll feel like you are in a fairy tale. They have great beer too!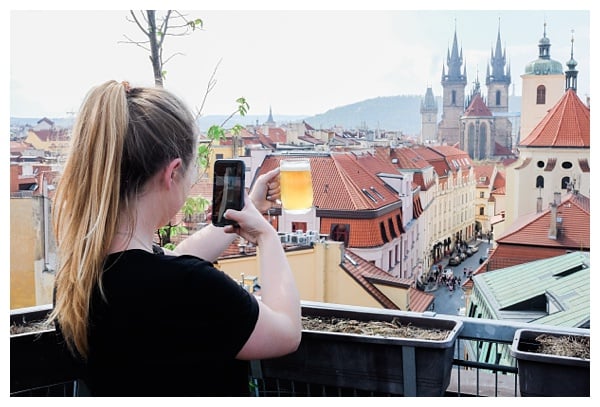 Jan ordered us a very very strong blue cheese with pickled onions. If you love blue cheese, you will love this. If you don't love blue cheese, you will hate this! I fall somewhere in the middle so I could only handle a few bites. It was powerful! Jan explained how this was a typical Czech drinking snack.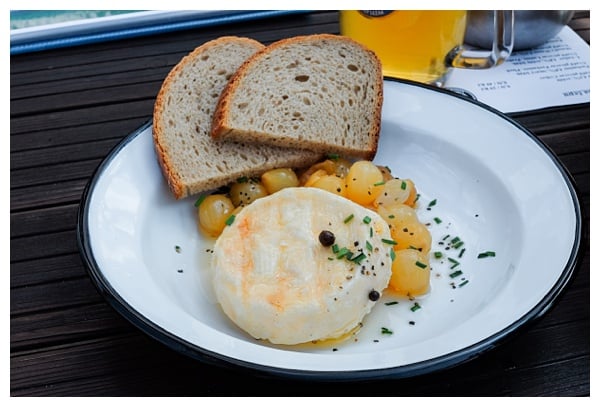 We also got some delicious fried potatoes — a much more familiar drinking snack for Americans! These were delicious.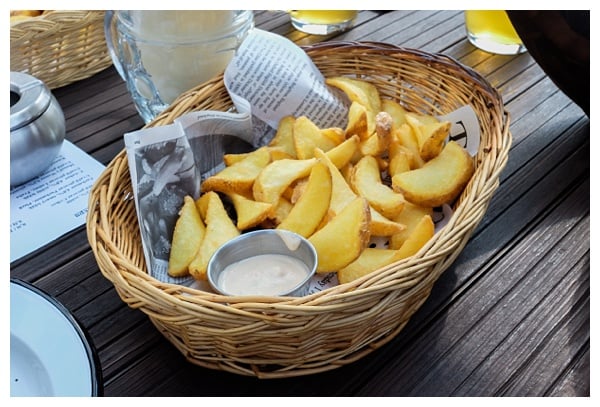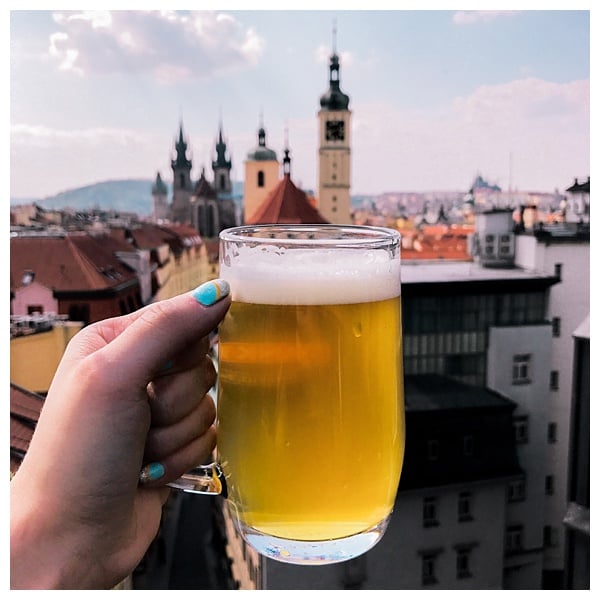 Our next stop was Perníčkův sen, where I had been on the Eating Prague Food Tour. When Jan told us our next stop was for a beer at the gingerbread shop, I was surprised but excited to return. I hadn't remembered them serving drinks. But we went inside and this is what they handed us: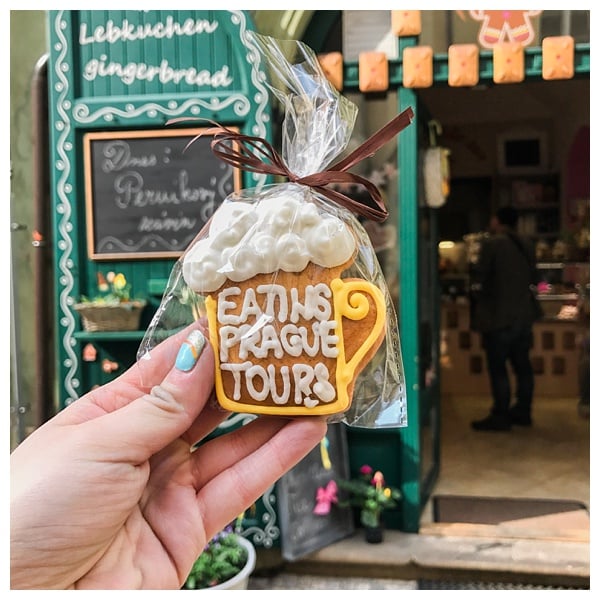 Our final stop was at a craft beer market and we tried a few more styles of beer.
This tour was so much fun. Not only did we try great food and beer, we also learned about many historical and cultural sights throughout Prague. This was so much more than a beer tour. Even if you're not a huge beer drinker, you will enjoy this tour. Jan is a fantastic guide and teaches you so much about Czech history and daily life in Prague.
I highly recommend the Eating Prague Beer Tour and the Eating Prague Food Tour. These are both fantastic experiences and I can't say enough good things about them!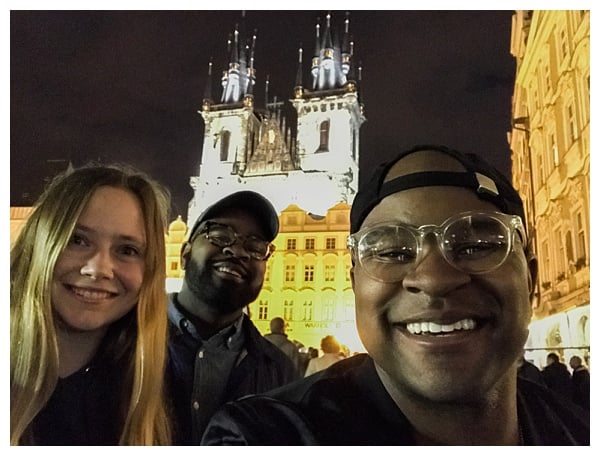 Prague Beer Tour
Tips and Advice:
Take notes and photos of the shops and the foods you try. It's harder to remember than you think! Czech is a difficult language and photos of the shop names are handy for later reference.
Eat something before the tour. There are some snacks included, but you will drink quite a bit and it's not a good idea to start the tour with an empty stomach.
Don't forget to tip your tour guide.
If you enjoy yourself, write a TripAdvisor review. It only takes a few minutes and really helps the tour operators.
If you have any dietary restrictions or allergies, please let them know when you make your reservation. They will go out of their way to accommodate you if they know in advance.
Eating Prague Food Tours // Website // Blog // Facebook // Instagram // Tripadvisor Reviews
---
What are your favorite foods to eat in Prague? Please comment and share your suggestions!
---
For my Prague food and restaurant recommendations, check out My Favorite Foods to Eat in Prague. 
For more on what to do in Prague, check out my Prague Destination Page.
For more great foods to eat in Prague, check out Eating Prague's Foodie Guide.
---
Never miss a post! Subscribe here to receive my latest blog posts in your inbox.