I eat oatmeal nearly every morning for breakfast. I've trained myself into a routine for consistency and health purposes. I open up a packet of plain oatmeal, microwave it with some water, and add just enough brown sugar and cinnamon to make it edible. I eat it quickly while skimming my email and the news and then I head to the gym or go for a run (honestly, I tell people I go on 'runs' but I truly only walk).
Having a bowl of bland, nutritious oatmeal every morning seems to make me feel a little less guilty for some of the questionable food decisions I'm sure to make later in the day. It's not fancy and it's really not even very good, but it fills me up and helps get my day started in a positive way.
Before I continue, I do want to say that oatmeal is horrible to photograph. I tried for a very long time to get delicious, appetizing photos of the oatmeal and I got very frustrated and ended up stress eating Cheetos. So please, just take my word for it and know that this pumpkin oatmeal is delicious even though it's not photogenic.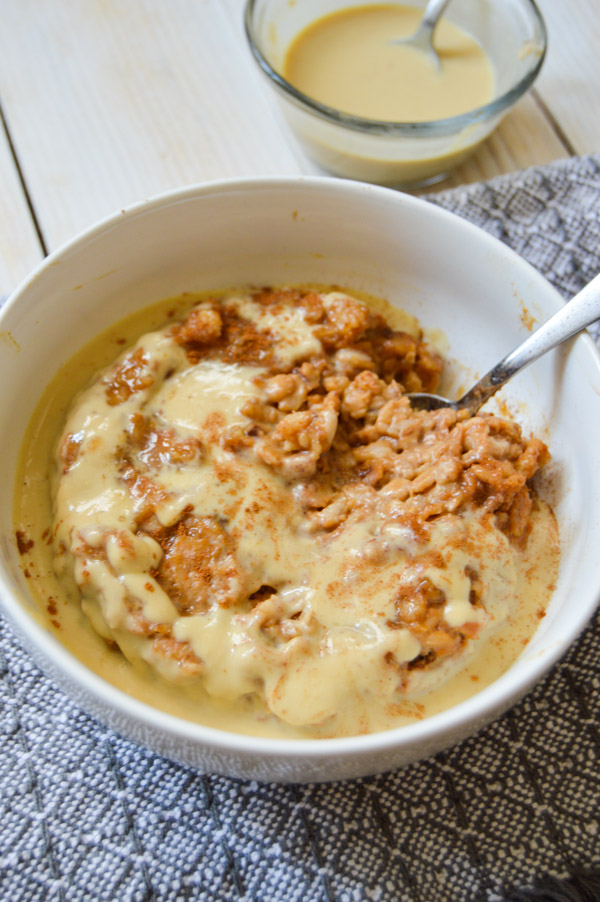 On weekends, my normal oatmeal doesn't cut it. I need something more exciting. Oatmeal is a great blank canvas and it just takes a little bit of creativity to turn it into an indulgent dish worthy of a Saturday or Sunday morning breakfast.
Oatmeal is a natural choice for breakfast when the weather gets colder in the fall and winter months.  Pumpkin makes oatmeal richer and heartier and the warm spices make it a welcome addition on any fall breakfast table. The maple pouring cream adds a decadent creamy sauce that takes it over the top. This is a perfect Halloween morning breakfast, holiday brunch addition, or a semi-indulgant way to start off your Thanksgiving day feast.
Pumpkin Oatmeal with Maple Pouring Cream Recipe
Jordan Hamons | The Hungry Traveler
Yields 6-8
Pumpkin Oatmeal with Maple Pouring Cream
Ingredients
For the Maple Pouring Cream
1 cup whole milk
1 cup heavy cream
1/4 cup pure maple syrup
1/2 cup (107 grams) brown sugar
7 large (126 grams) egg yolks
1/4 teaspoon kosher salt
1 teaspoon vanilla extract
For the Pumpkin Oatmeal
4 cups whole milk
1/2 teaspoon kosher salt
2 cups old fashioned rolled oats
1/4 cup (53 grams) brown sugar, plus more for serving
1 15-ounce can pumpkin puree
1 teaspoon ground cinnamon, plus more for serving
1 teaspoon ground ginger
1/4 teaspoon freshly grated nutmeg
1/4 teaspoon ground clove
1 teaspoon vanilla extract
1/2 cup golden raisins (optional)
Instructions
For the Maple Pouring Cream
In a medium saucepan, combine the milk, cream, and maple syrup. Bring the mixture to a simmer.
In a medium heat-proof bowl, whisk together the brown sugar, egg yolks, and salt until the mixture turns pale yellow and is slightly fluffy.
Once the milk reaches a simmer, gradually stream the milk into the yolk-sugar mixture while whisking continuously. You should pour this in a very slow stream which whisking steadily to prevent the hot milk from cooking the eggs.
Pour the entire mixture back into the sauce pan and continuously stir (making sure to get the bottom and edges of the pan) until the mixture is slightly thick and reaches about 170 degrees. It should coat the back of a spoon. Stir in the vanilla extract.
Remove the pan from the heat and strain the sauce into a clean container. Let it cool slightly while you make the oatmeal.
For the Pumpkin Oatmeal
In a medium saucepan, bring the milk, and salt to a boil. Add the oats, brown sugar, pumpkin, cinnamon, ginger, nutmeg, and clove and stir to combine.
Reduce the heat to medium-low and cook for 15-20 minutes (you can adjust the cooking time based on the consistency you like your oatmeal). Remove the pot from the heat, stir in the vanilla extract and golden raisins (if using), cover the pot, and let stand for a few minutes.
Divide the oatmeal evenly among serving bowls and add a sprinkle of brown sugar and a pinch of cinnamon to the top of each bowl. Serve with the warm maple pouring cream drizzled on top.
7.8.1.2
54
https://www.thehungrytravelerblog.com/pumpkin-oatmeal-with-maple-pouring-cream/
If you liked this recipe,
subscribe to my mailing list
to receive a new recipe in your inbox every week!