Sweet and Spicy Breakfast Sandwich with sausage, white cheddar, a fried egg, and raspberry preserves. Served on a buttermilk biscuit!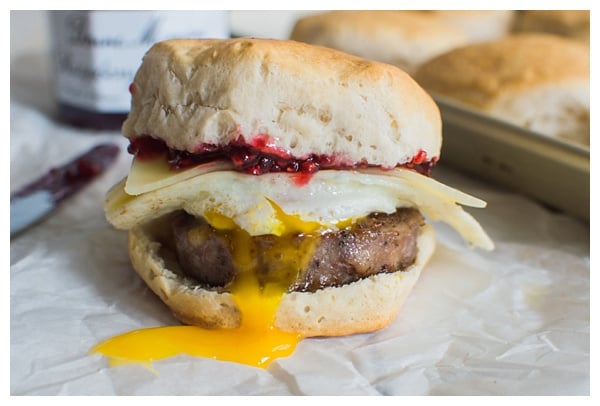 This year for Mother's Day, I've partnered with Bonne Maman to create the perfect breakfast in bed dish. There are a few key elements that make a dish great for breakfast in bed:
It's got to be quick and easy to put together. No one wants to be up at 5 am to get breakfast ready
It can't be too messy. We don't want syrup all over the sheets.
It's got to taste great! I love this combination of buttery biscuit, sweet preserves and spicy sausage. The egg and cheese are added bonuses that take this breakfast sandwich over the top.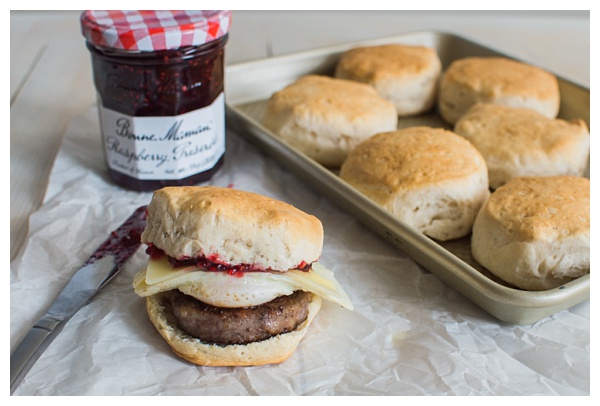 The great thing about this recipe for a sweet and spicy breakfast sandwich is that you can make it as easy or as complicated as you want. If you have the time and energy, go ahead and make the biscuits (I recommend my recipe for all-purpose buttermilk biscuits!) and sausage from scratch. If you're short on time, you can purchase a high quality version at the store.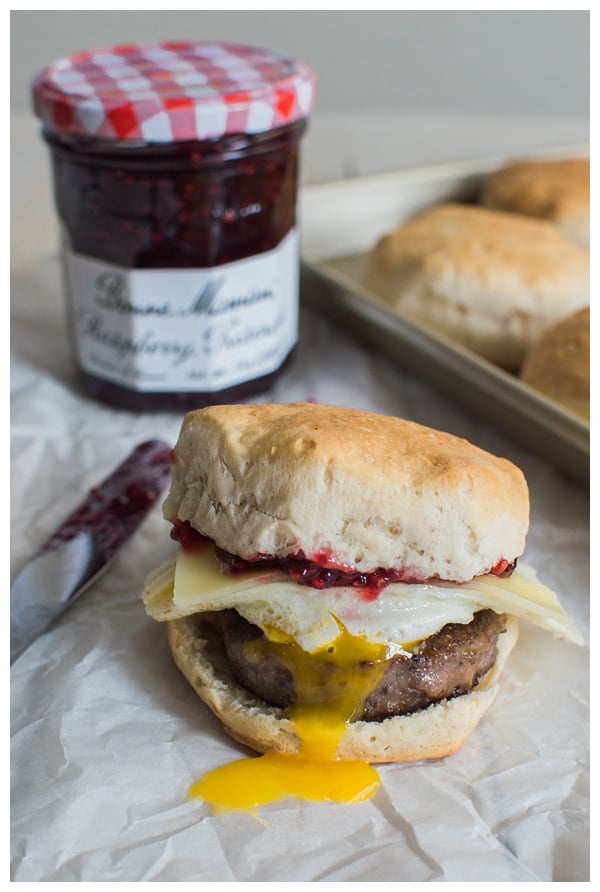 I love Bonne Maman preserves because they are made with natural ingredients, feature the finest quality fruit, are non-gmo verified, have no high fructose corn syrup, no artificial coloring and no added preservatives. The flavors are fantastic and they are made in with the same time-honored traditional French recipes used to create the brand. And the packaging is just plain cute! Raspberry is my favorite flavor, but strawberry, blueberry or apricot would be great in this recipe too.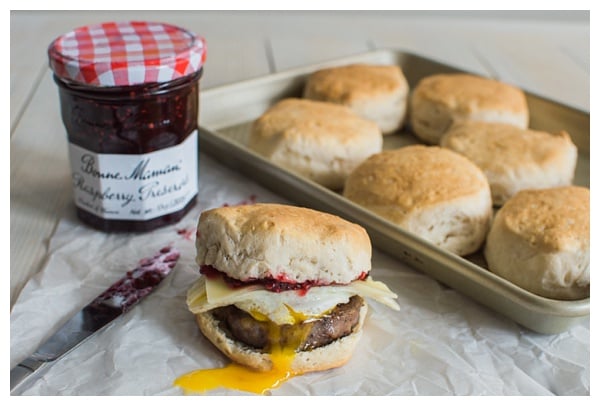 Treat your mom this Mother's Day and make her breakfast in bed. It's easy, delicious and she will be impressed!!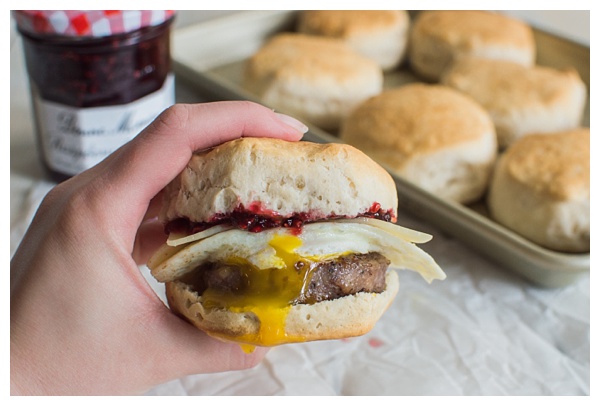 Sweet and Spicy Breakfast Sandwich Recipe
Yields 6 sandwiches
Sweet and Spicy Breakfast Sandwich with Sausage and Raspberry Preserves
Ingredients
6 buttermilk biscuits, split
Bonne Maman Raspberry Preserves
6 sausage patties
6 fried eggs
6 slices white cheddar cheese
Instructions
Spread the biscuit tops and bottoms with as much raspberry preserves as you like. Place the sausage patty on the biscuit bottom and top with the fried egg and cheese. Top with the biscuit top and serve warm.
7.8.1.2
94
https://www.thehungrytravelerblog.com/sweet-spicy-breakfast-sandwich-sausage-raspberry-preserves/
Be sure to enter Bonne Maman's Contest too!