Asparagus Bundles — Asparagus stalks wrapped in prosciutto, filled with garlic-herb cheese, rolled in crescent dough, topped with Parmesan and baked.  A great appetizer, small bite or side dish!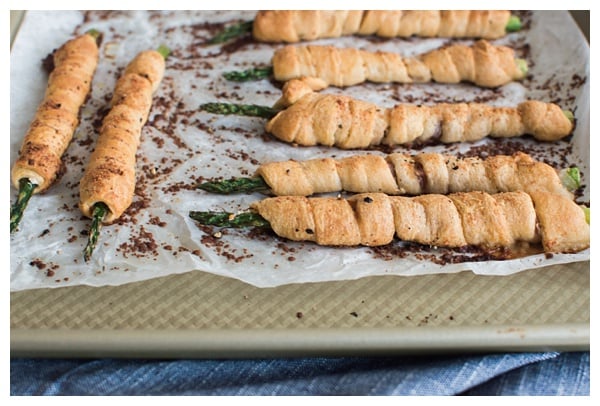 I'm not sure if I ever officially announced it here, but last summer I started a business called Tablespoon Cooking Co., which operates out of Findlay Kitchen at Findlay Market in Cincinnati Ohio.
Tablespoon Cooking Co. teaches home cooks of all levels how to cook good food through cooking classes and private events. We teach small hands-on classes on a variety of subjects. Our most popular class is Knife Skills but our courses cover everything from biscuits and gravy to pies and pizza.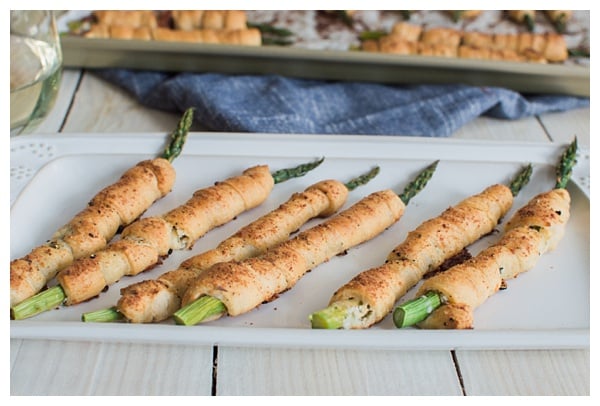 Lately, we've been booking more and more private events. One of our favorite themes for private events is to set up appetizer stations. This allows our guests to move around, mingle and socialize while they are cooking. We have several signature appetizers that we do for every event and one of the most popular is our asparagus bundle. When Cavit asked me to partner and create a spring appetizer that pairs with Pinot Grigio, I knew exactly what I wanted to do!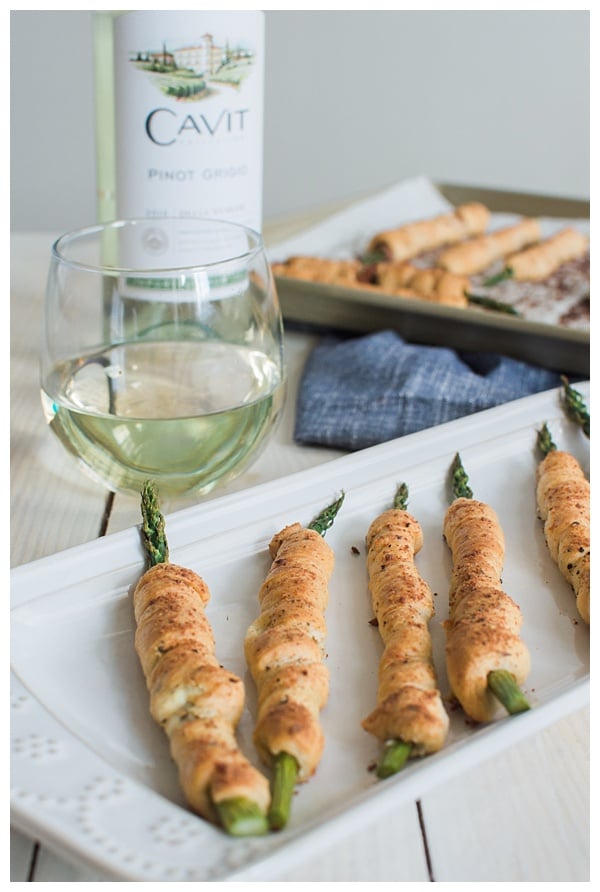 Asparagus bundles are a great appetizer because they are simple to make and satisfying without being overly filling. Asparagus bundles also pair perfectly with Pinot Grigio!
I love to use prosciutto but you could omit it to make them vegetarian. Boursin Garlic-Herb cheese is my favorite, but you could use any flavor.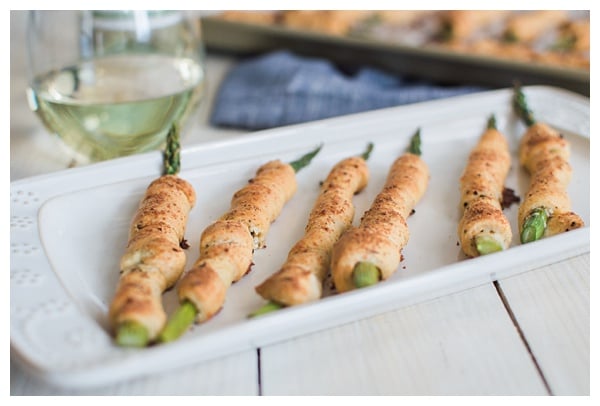 Cavit first introduced Pinot Grigio into the United States in 1977 and is excited to celebrate National Pinot Grigio Day on May 26. Pinot Grigio is ideal for the warmer months and this Memorial Day Weekend is the perfect time to kick off Pinot Grigio drinking season!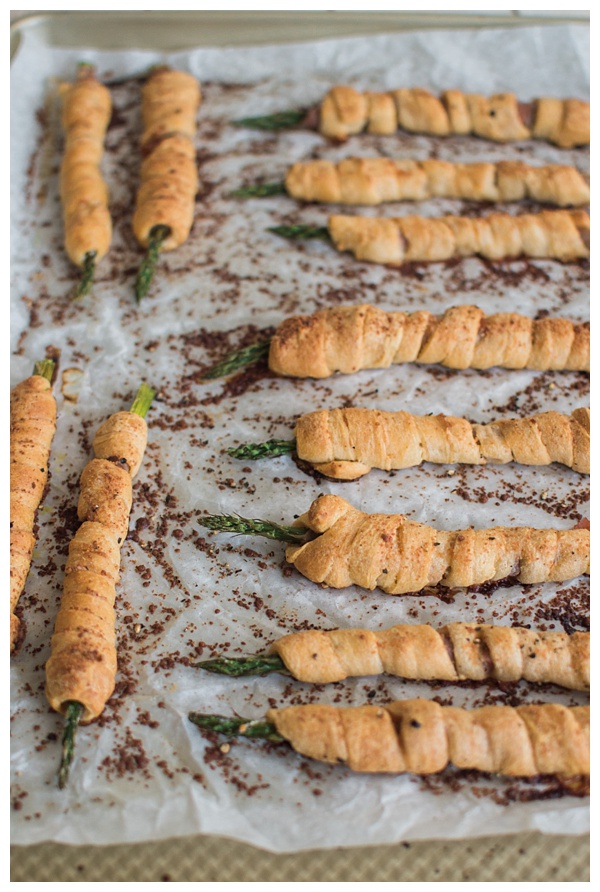 If you're looking for a few other great appetizers to serve with the asparagus bundles, check out two of my favorites:
Bacon-Wrapped Dates with Manchego and Spicy Honey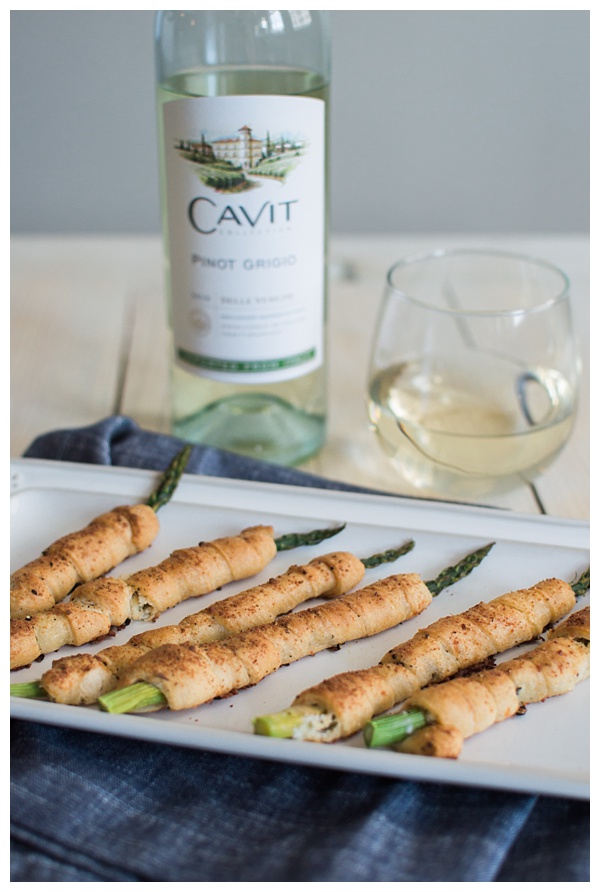 Asparagus Bundles Recipe
Asparagus Bundles with Prosciutto and Garlic-Herb Cheese
Ingredients
1 cup grated Parmesan
1 package Pillsbury Crescent Seamless Dough Sheets
1 package Boursin Garlic & Fine Herbs Cheese, softened to room temperature
2 pounds asparagus, trimmed or snapped to remove tough ends
20 pieces prosciutto
Kosher salt and freshly ground black pepper
Instructions
Preheat the oven to 350 degrees F. Line a baking sheet with parchment paper.
Spread out the Parmesan cheese on a plate or in a shallow
baking dish.
Lightly dust a clean work space with flour. Unroll the crescent roll dough and lay it on your work area. Use a rolling pin to lightly roll over the dough and roll it out until it's about 1/4 inch thick.
With an offset spatula, spread the cheese evenly over the dough. Using a sharp knife or pizza cutter, cut the dough into 1/8-inch wide strips.
Take a stalk of asparagus and wrap it in a piece of prosciutto and then with a strip of dough, leaving the tip of the stalk exposed. Roll the wrapped asparagus in the Parmesan cheese until the dough is nicely coated. Place the asparagus on the prepared baking sheet. Repeat until all of the asparagus stalks are wrapped in dough.
Sprinkle the asparagus with salt and pepper. Then sprinkle with any remaining Parmesan cheese.
Place the baking sheet in the over and bake for 12-15 minutes or until the dough is puffed and golden brown. Serve immediately.
7.8.1.2
96
https://www.thehungrytravelerblog.com/asparagus-bundles-prosciutto-garlic-herb-cheese/