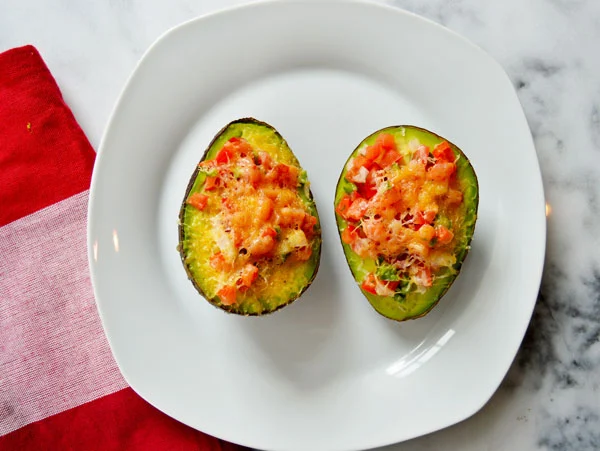 One of my favorite things about this blog is the opportunity to talk about food, cooking, and travel with people I don't see often or may have never even met in person.
Since I started this blog last year, my friends and family members often send me recipes and food articles that they think may interest me or make good content for blog posts. Though she does not read my blog, my grandma cuts recipes out of the newspaper and sends me a big envelope full of them once a month.  I don't cook all of these recipes, but I always enjoy reading them.
Last month, my neighbor Chris (you may know her from her pineapple cake or her fluffy cheesecake) ate at Maiz Cantina in Ypsilanti, Michigan and ordered their baked avocado dish. She loved it and shared the recipe with me. I made it a few days later and it was so good I knew I needed to share it here too.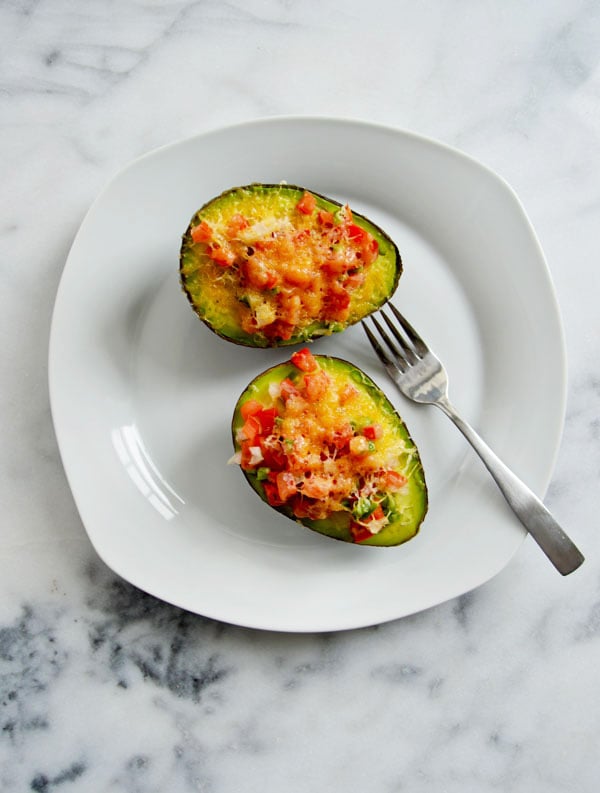 Baked avocados are simple to make. Cut an avocado in half, remove the pit, and season it with salt and pepper. Fill the center with pico de gallo and shred some cheese on top. Place the halves on a baking sheet and bake at 325 degrees until the cheese has melted and the avocado is warm throughout.
One trick is to crinkle up a piece of foil and set the avocado on it on the baking sheet. The foil helps keep the avocado halves secure and prevents them from rolling around and losing all of the toppings.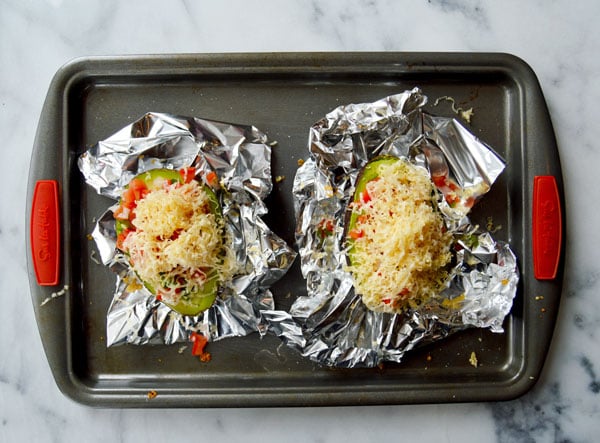 A recipe is not needed to make these but I have provided one anyways. You can use whatever you have for the filling and don't feel like you need to measure anything. Chopped onion, tomato, jalapeño, cilantro, lime juice, and salt are my favorite combination but you could instead use salsa or even add some pulled chicken or black beans. For cheese, I like to use a spicy habanero or pepper jack cheese or something like queso blanco or cotija. But really, just use whatever you have in your refrigerator or what sounds good to you at the time.
While I don't typically cook with an effort to make things gluten-free or vegan, I want to point out that this baked avocado recipe is easy to adapt to dietary restrictions. They are gluten-free and vegetarian when made using the recipe below. For a vegan version, just omit the cheese or use a vegan cheese substitute.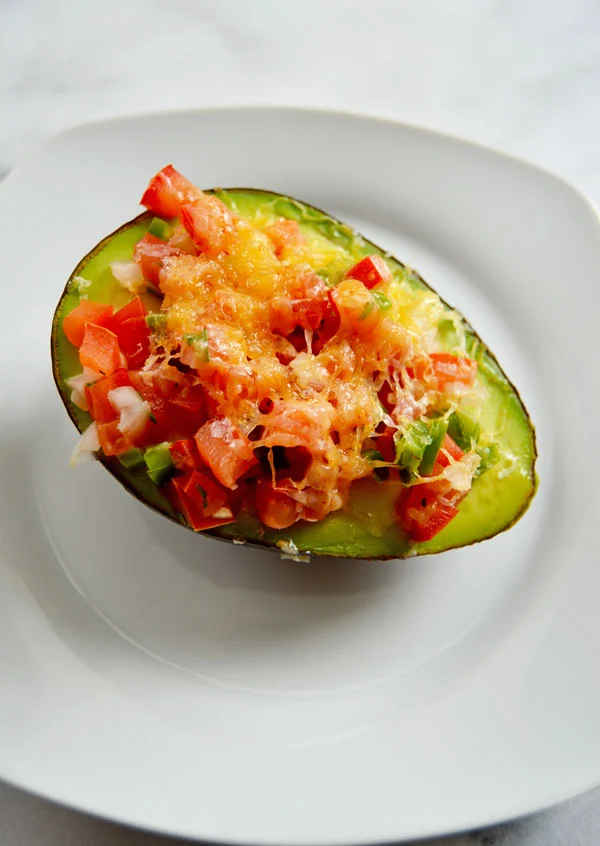 Jordan Hamons | [The Hungry Traveler|http://www.thehungrytravelerblog.com" target="_blank]
Yields 2
Baked Avocado
Ingredients
1 avocado
1/4 cup finely chopped onion
1/4 cup finely chopped tomato
1 jalapeno, finely chopped
1 teaspoon minced cilantro
1 tablespoon freshly squeezed lime juice (from about 1 lime)
Salt and pepper
1/4 cup pepper jack or cotija cheese, shredded or crumbled
Hot sauce, for serving
Instructions
Preheat the oven to 325 degrees and position a rack in the center.
Cut an avocado in half and remove the pit.
In a small bowl, combine the onion, tomato, jalapeno, cilantro, lime juice, and 1/4 teaspoon salt.
Season the avocado halves with salt and pepper. Divide the onion-tomato mixture between the avocado halves. Sprinkle the cheese on top.
Crinkle two small pieces of foil and place them on a small baking sheet. These will help secure the avocado halves and keep them from rolling around.
Place the avocado halves on the foil holders and place the baking sheet in the oven. Bake until the cheese has melted and the avocado is warm throughout, about 8-12 minutes.
7.8.1.2
38
https://www.thehungrytravelerblog.com/baked-avocado/