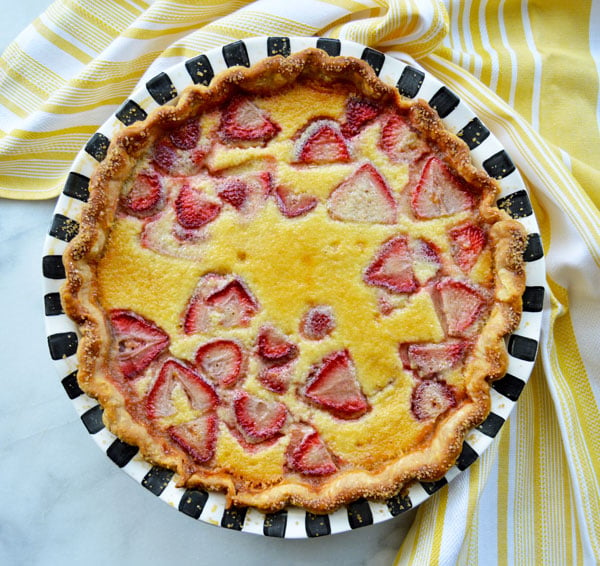 Can I go on a rant for a moment? I have some issues with current dessert trends that I need to get off my chest.
Outrageous desserts have never appealed much to me but when I recently noticed recipes popping up for something called 'slutty brownies' it pushed me over the edge.
There are several variations for slutty brownies but the main idea seems to be boxed brownie mix, refrigerated cookie dough, and oreos layered in a pan and baked.  Apparently these 'brownies' are easy and filthy and therefore slutty.
I won't get into my issues with the name but I cringe at this trend of throwing together a bunch of store bought garbage and calling it dessert. I may be boring (or in this case a prude), but I'd rather melt chocolate and butter together, sift the dry ingredients, and fold the two together for a homemade brownie made with quality ingredients and some actual substance.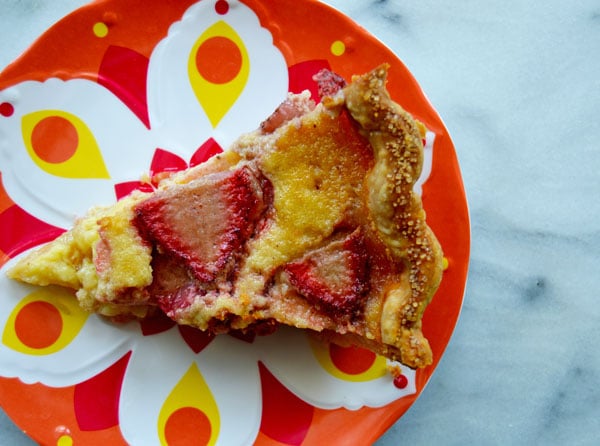 I'm all for having fun with baking and desserts. I've made chocolate chip cookies with oreos stuffed inside and crushed up candy bars to garnish cupcakes. Honestly, I usually find that these overindulgent desserts leave me disappointed. With so many components, the flavors overwhelm each other into an overpowering sweetness.
Good desserts are balanced. They aren't made of store bought ingredients thrown together in a pan. Good desserts are not cloyingly sweet or overpowering in richness but instead delight you in the pleasure of simplicity. They leave you satisfied and maybe even craving more after you've finished your last bite.
With all this focus on outrageous sweets, I worry we have forgotten about desserts that focus on good ingredients, seasonal flavors, and simple baking techniques. Instead of adding cookie dough and candy bars, what about ripe strawberries and fresh buttermilk? Instead of just assembling prepared ingredients, what about whisking, blending, mixing, and actual baking?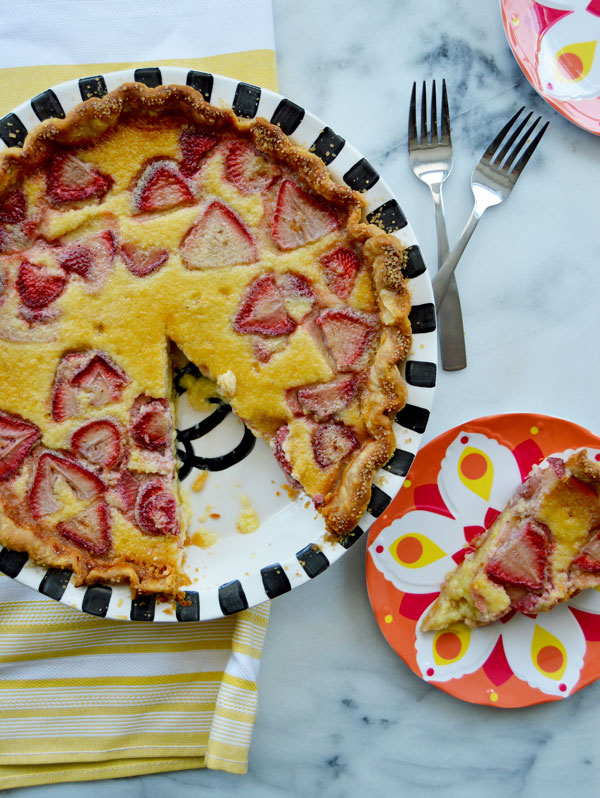 I'll end this rant by introducing you to a classic dessert that is simple, but delicious and satisfying. Chess pie has been a staple in the American South for nearly 200 years and at first glance seems basic. Sometimes referred to as 'pantry pie,' the main ingredients of chess pie are pantry staples – just butter, sugar, eggs, and in some recipes a little cornmeal (however we are not using it in the recipe below).  While simple, the ingredients combine to form a flavor that is anything but basic. A crackly crust forms on top and reveals a rich, sweet center that is balanced by a crisp, flaky pie crust.
If anything in my rant resonated with you, give this pie a try. Buy the highest quality ingredients you can, spend a little time in the kitchen, and you'll be amazed and satisfied at the results.  Strawberry buttermilk chess pie may not be slutty or filthy, but it sure is good.
Strawberry Buttermilk Chess Pie
There are many explanations for the name chess pie. Many historians believe chess pie derives from the word cheese and the British cheesecakes that were popular in American Colonial times but some people say the name comes from the term pie chest. Chess pie recipes date back to 1747 but are not all that different from what is published in cookbooks today.
Chess pie has adapted to modern times and equipment and now it's common to find many flavor variations. Some of the most popular include lemon chess or chocolate chess. I've even seen a bourbon pecan chess pie and that is a dessert I find to be outrageous in a good way.
In this version of chess pie, I've added some buttermilk which provides richness but a tang that balances the sweetness. The strawberries add a pop of color and the bright taste of summer. Most of the work goes into the pie dough and once you have that made and pre-baked, the filling comes together in minutes.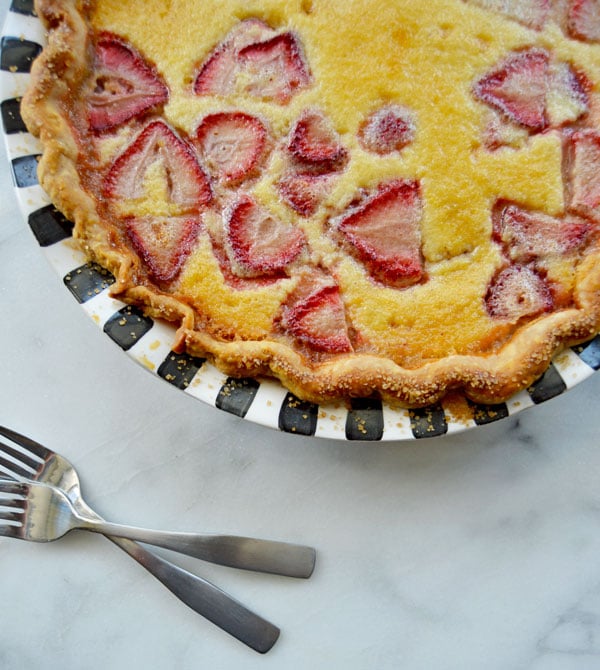 As always, the first step in baking is to prepare the ingredients. Measure the dry ingredients and lemon zest and place them in a medium bowl. Melt and cool the butter. Crack the eggs. Measure the buttermilk and vanilla. Thinly slice the strawberries.
You will also need a pre-baked pie shell and you can find instructions on that here:
All Butter Pie Crust – Part 1: Mixing the Dough
All Butter Pie Crust – Part 2: How to Roll Out Pie Dough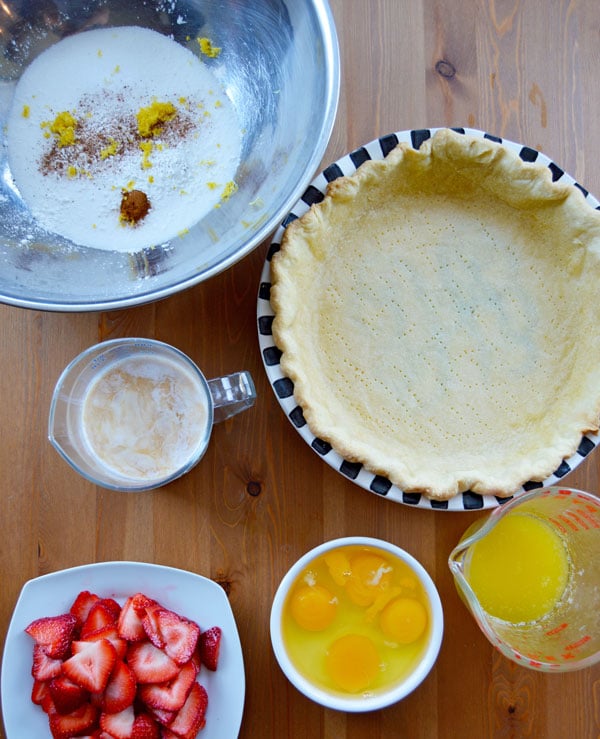 Start by whisking together the sugar, salt, cornstarch, lemon zest, nutmeg, and cinnamon.
For optional extra credit, you can start by placing the sugar and lemon zest in the bowl first and rubbing them together with your fingertips. This helps release the oils from the zest and will bring a brighter, citrus flavor into your filling. Then, continue by whisking in the other ingredients.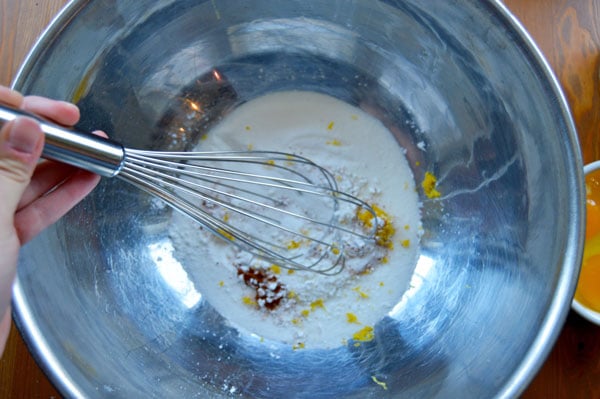 Add in the eggs and whisk them until well combined.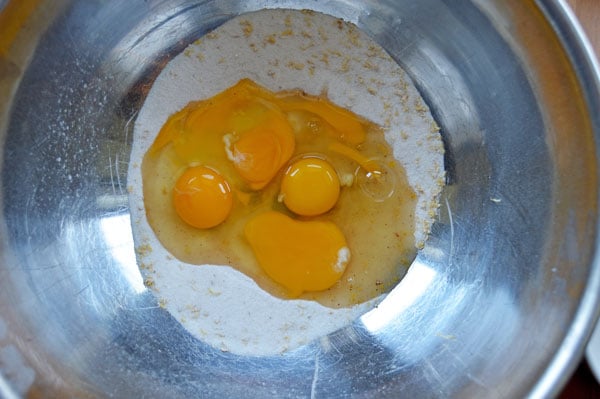 Pour in the vanilla and buttermilk and whisk until the mixture is smooth and homogenous.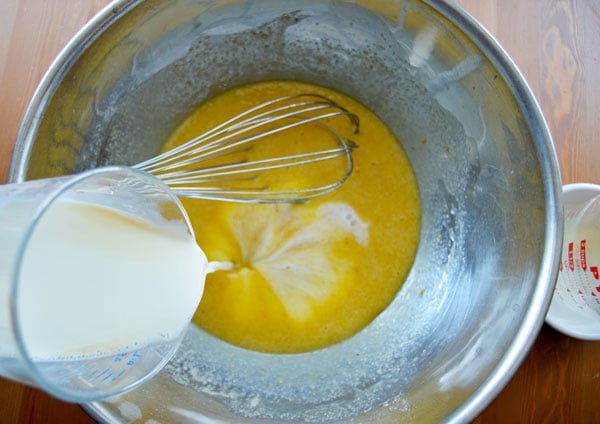 Finally, stream in the butter and whisk until everything is combined.
Make sure the butter is room temperature or at most barely warm before adding it into the mixture. If the butter is hot, it can cook the eggs and you'll end up with a curdled mess.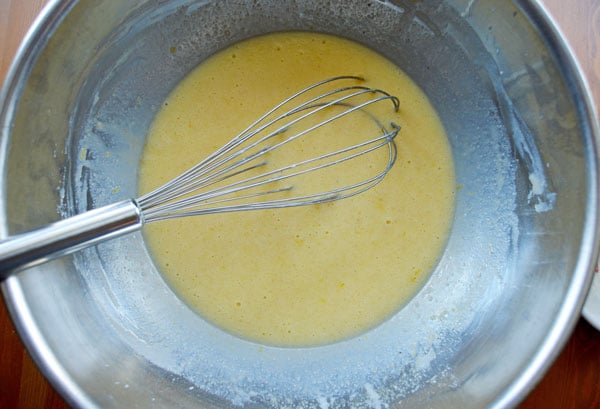 I bake most pies on a baking sheets for a few reasons. A baking sheet makes it easier to transport them in and out of the oven without sloshing the filling everywhere and it catches any drips or juices that bubble over.
Brush the edges of the pie crust with egg wash and sprinkle them generously with crunch sugar such as demerara or turbinado.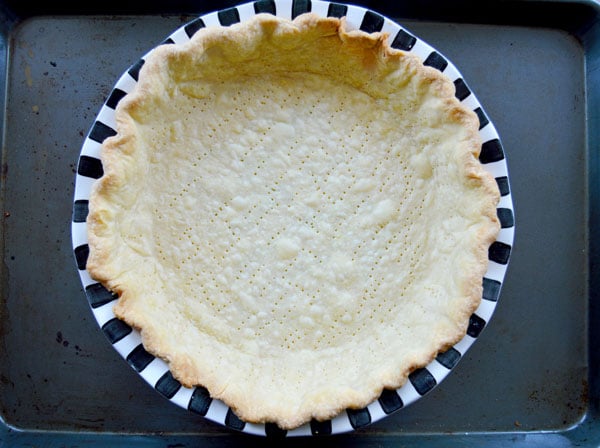 Sprinkle the strawberries across the bottom of the pie shell.
For a variation, you can use a different type of berry. Blueberries add an especially nice contrast of tartness.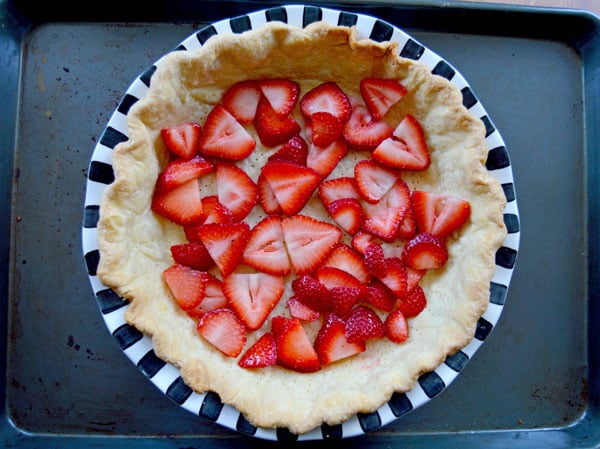 Slowly pour in the filling and carefully transport the pie to the oven. While the pie is baking, be sure to watch the edges of the crust to make sure they do not brown too much. If they start to look dark, remove the pie from the oven, cover the edges with foil, and return the pie until it has finished cooking.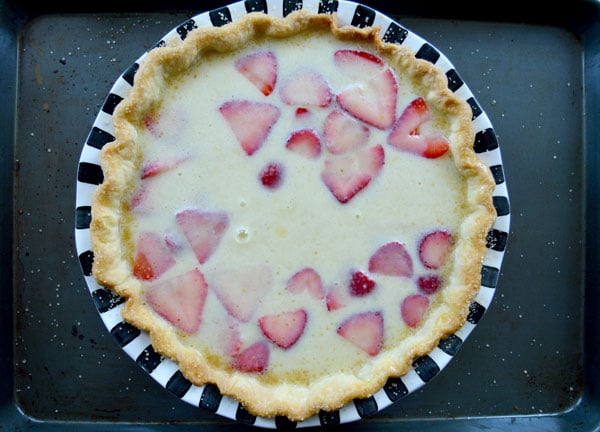 The pie is done when the top is golden brown, the filling is slightly puffed up around the edges and the middle is just set (slightly wobbly but not liquid). It will still jiggle a bit in the center but will continue cooking as it cools.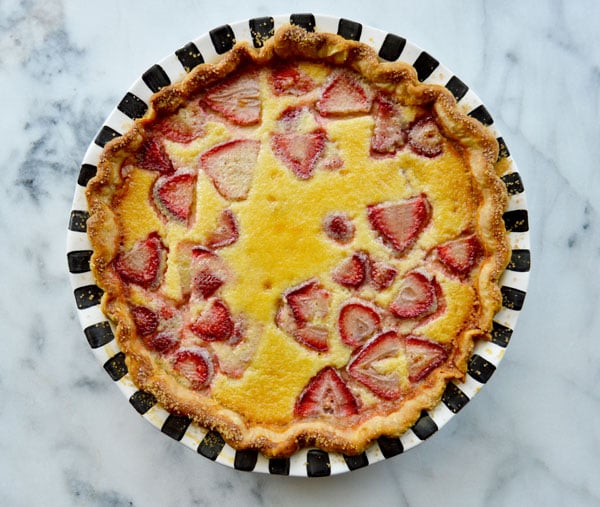 Jordan Hamons | [The Hungry Traveler|http://www.thehungrytravelerblog.com" target="_blank]
Yields 9-
Strawberry Buttermilk Chess Pie
Ingredients
1 1/4 cup (250 grams / 8.82 ounces) granulated sugar
1/2 teaspoon kosher salt
2 teaspoons cornstarch
1 teaspoon lemon zest, from about 1/2 lemon
1/4 teaspoon nutmeg
1/4 teaspoon cinnamon
4 whole eggs
1/4 cup unsalted butter, melted and cooled
1 1/2 cups buttermilk, room temperature
1 teaspoon vanilla extract
1 cup thinly sliced strawberries (about 8-10 strawberries)
Egg Wash (1 egg whisked with 1 tablespoon water)
Crunchy sugar such as demerara or turbinado
Instructions
Preheat the oven to 325 degrees with a rack positioned in the center.
In a large mixing bowl, whisk together the sugar, salt, cornstarch, lemon zest, nutmeg, and cinnamon.
Add the eggs and gently whisk until incorporated and well blended with the other ingredients. Try not to create bubbles or beat in a lot of air.
Whisk in the buttermilk and vanilla extract. Slowly stream in the melted butter and whisk until everything is well combined and homogenous.
Place the baked pie shell on a baking sheet. Brush the edges of the crust with egg wash and sprinkle them generously with crunchy sugar.
Arrange the strawberries in the bottom of the pie shell. Slowly pour the filling on top. Place the pie on the center rack in the oven. Be sure to monitor the pie while it is baking. If the edges start to get too brown, cover them with foil.
Bake for 50-60 minutes or until the top is lightly brown, the edges of the filling have puffed slightly and the center is set. A knife inserted between the sides and center will come out clean. The center may look a bit wobbly but will continue to set as it cools. Place the pie pan on a cooling rack and let cool to room temperature. Serve the pie with a dusting of powdered sugar or a dollop of whipped cream at room temperature or slightly chilled.
Notes
7.8.1.2
36
https://www.thehungrytravelerblog.com/strawberry-buttermilk-chess-pie/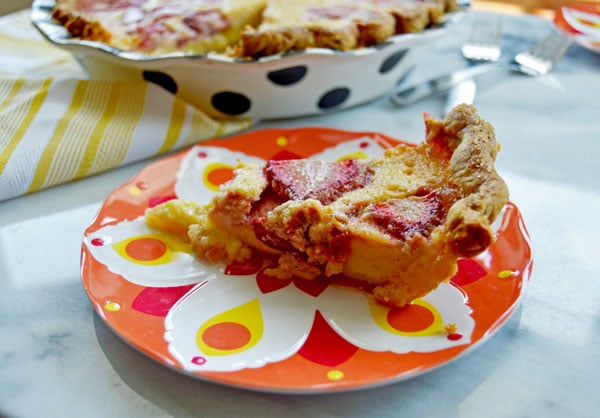 For more pie recipes, check out:
All Butter Pie Crust Part 1 – Mixing the Dough
All Butter Pie Crust Part 2 – How to Roll Out Pie Dough
Key Lime Pie with Graham Cracker Crust
Baking Pies A Plenty at Zingerman's Bake!