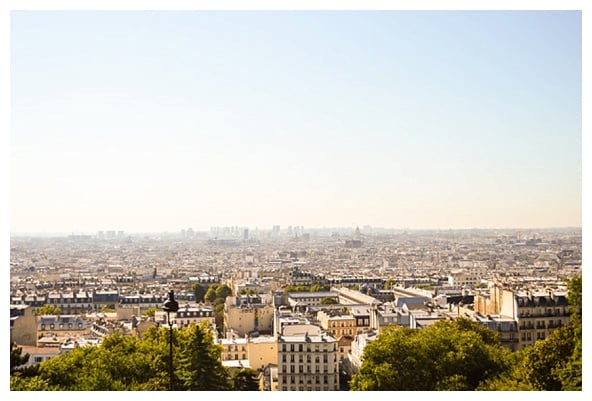 In light of last Friday's terrorist attacks in Paris, I debated the appropriateness of this post. I had it scheduled but thought maybe I should hold off for a few weeks. However, after thinking about it and asking some friends, I decided to go ahead. My decision was cemented when I saw this Facebook post from my favorite travel guide writer Rick Steves. Rick wrote,
"About the right response to terrorism, I believe we owe it to the victims of this act not to let the terrorist win by being terrorized. That's exactly the response they are hoping for. Sure, it's natural for our emotions to get the best of us. But, especially given the impact of sensational media coverage, we need to respond intelligently and rationally."
He finished his piece with this sentiment,
"And it remains my firmly held belief that the best way for Americans to fight terrorism is to keep on traveling."
I've received emails and messages from some of my friends in Paris. Many of them are tour guides and are experiencing an extreme number of cancellations. While they understand the fear, they worry about how their businesses will last.
I'm not going to let these horrible attacks change my love for Paris. I would jump on a plane tomorrow if I have the chance. As Rick says, "Don't be terrorized."
---
Cook'n with Class – Paris, France
French Bistro Desserts
While I was planning my trip to Paris earlier this year, I posted in some food writer/culinary professional Facebook groups asking for advice on cooking classes. I had a professional school in mind and was getting discouraged when I couldn't find a program to attend during my visit. Luckily, some of my culinary friends suggested Cook'n with Class and sent me messages of the great experiences they had at the school. I checked out their course offerings and was beyond excited when Cook'n with Class generously offered to host me for their French Bistro Desserts class and Morning Market class.
After signing up online, I quickly received a confirmation, information about the school, a map with directions, and a list of some of the chef's favorite places in Paris. The team at Cook'n with Class was responsive to questions and made me feel completely at ease and excited for the experience.
Cook'n with Class is located in the Montmartre area of Paris. This historic area is best known for Sacré-Cœur, Le Moulin Rouge, and as the former stomping grounds of artists such as Dali, Picasso, and Van Gogh during La Belle Époque. Cook'n with Class is located very near the Jules Joffrin Metro station, only a few stops away from the central sightseeing area.
If you take a class at Cook'n with Class, I recommend planning your day to allow you to spend time in Montmartre. My class was in the afternoon so I spent the morning touring Sacré-Cœur and walking around Montmartre before heading to Cook'n with Class.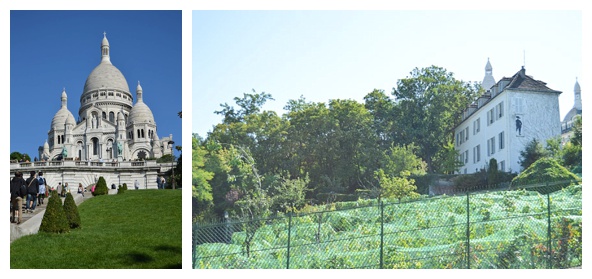 Arriving at the school, I found a perfect refuge and relaxing place to sit and recharge after a morning of exploring Montmarte. The school is cozy, welcoming, and perfectly Parisian chic. It's located near a tourist area but enough off the beaten path that you get to experience locals going about their daily lives, which can be a nice break from the general Paris tourist circuit. The staff was wonderful and offered me tea, coffee, and a comfortable place to sit. Near the entrance sits a small boutique offering some of the products used in class along with branded aprons and t-shirts.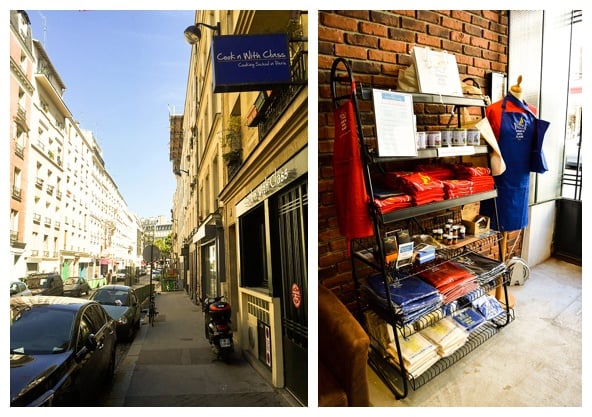 The school is located in a multi-level atelier and is home to two different kitchen classrooms and a wine cellar in the basement.
For my French Bistro Desserts class, I headed to the kitchen in the back. Europeans are so good at making use of small spaces and the kitchen at Cook'n with Class is no exception. Every inch in the well-equipped kitchen is used efficiently. I found myself wishing I had this kitchen as an extension off of my apartment.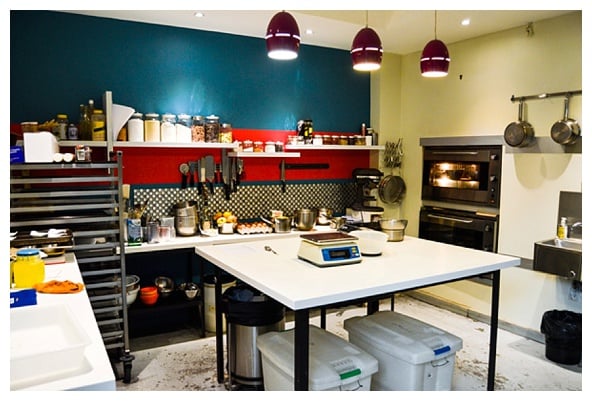 The French Bistro Desserts class is limited to just a few students so everyone gets plenty of hands on experience. I was joined by a mother-daughter duo from Australia and another woman from Singapore. One of my favorite parts of these cooking classes is getting to meet new people and interact with cooking enthusiasts from around the world. It's always interesting to hear cooking ideas from those from other cultures.
Chef Alex got us started by going over the menu for the day. Our class covered five classic French Bistro desserts: tarte tatin, chocolate soufflés, crème brûlée, fruit tarts, and madeleines.
We started with the tarte tatin, a dessert that has always fascinated and challenged me. When done well, there is nothing better. But, it takes a lot of work and timing to get all of the pieces to come together. We started by quartering the apples and sautéing them in caramel and butter. We each got a turn at the sauté pan and while one person manned the apples, the rest of us got to work on other tasks. Chef Alex was great at delegation and the class flowed flawlessly. Oh, and you may recognize him from when he appeared on The Real Housewives of Beverly Hills.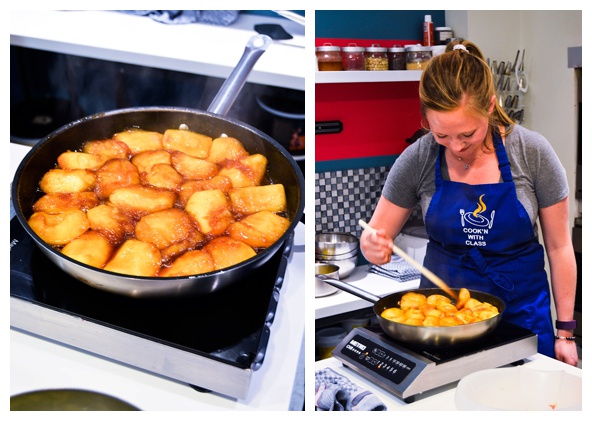 Initially I was disappointed to be taking classes on a recreational level. I enjoy all cooking classes and can learn from anyone, but I was nervous the classes would be dumbed down for the common tourist. I don't have a problem with that, but my priority was to take classes that expanded my knowledge and built my credibility. I thought I needed to go to one of the professional schools to achieve that.
Within the first hour of my class, I realized how wrong I was in that assumption. My experience at Cook'n with Class totally surpassed my expectations and I learned that many professionals take classes there too. Cook'n with Class teaches the art of French cooking, but in a relaxed and fun atmosphere.
The classes are designed to work with any skill level. If you're a beginner that has barely picked up a knife, the chef instructors will work with you on the basics. If you work in the culinary industry, you will pick up on different tricks, techniques, and the French way of doing things.
One of my favorite tricks involved the tart shells. Chef Alex asked us if we had ever noticed how French pâtisseries are able to get the tart shells perfectly smooth and even and then proceeded to show us the trick. He used the mesh sieve, pictured below on the left, and gently ran the top, bottom, and sides of the shell along the mesh. This perfectly smoothed and evened it out. Magic.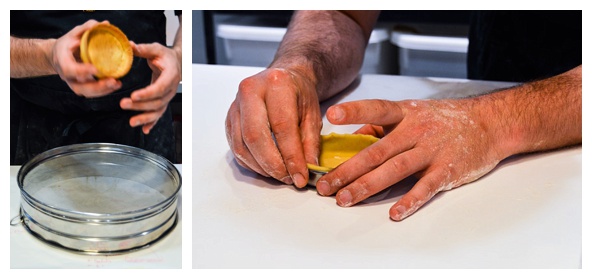 Learning from Chef Alex Dreyer was one of the highlights of the class. Alex is from the US but has lived and worked in Paris for many years. Not only is he an incredibly experienced chef, but an entertaining and skilled instructor. He liked to joke around but don't let his fun demeanor in class fool you. Last year, Chef Alex made it to the semi-finals for the MOF (Meilleur Ouvrir de France) award. The MOF is a highly competitive and challenging award only given to the top artisans in France. To put it bluntly, it's a really big deal and he knows his stuff.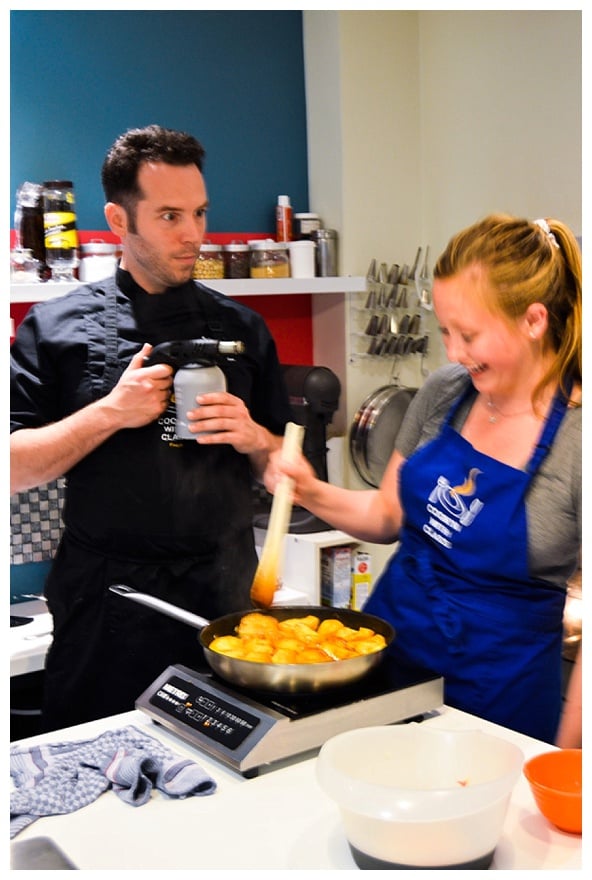 We made madeleines and enjoyed them warm just out of the oven. I appreciated the technique of filling the molds with a pastry bag. Chef Alex also said that his trick for getting the signature 'hump' on the back of the madeleines is to fill the molds 3/4 of the way full and let them rest at room temperature overnight before baking. I haven't tried it yet but I am curious.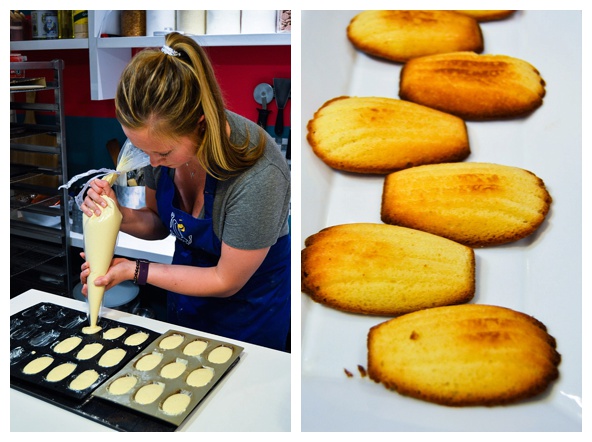 The tarts were the most impressive dessert we made. We started with a pâte sucrée for the tart shell, brushed it with orange confit, filled it with a molded creme diplomate, and finished it with an orange-olive oil glaze. Then, we added some candied orange and chocolate pearls for decoration. All of the components were simple but we learned a few tricks to put them together into an impressive pâtisserie-worthy dessert.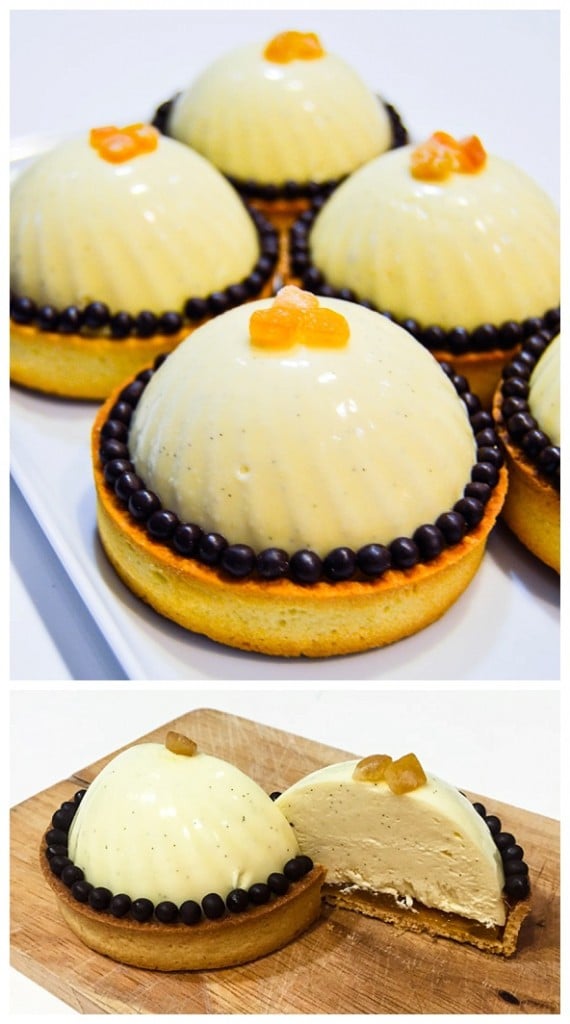 I go way back with crème brûlée but I had actually never made soufflés before. For some reason, I've heard so many horror stories involving soufflés wilting, that I always shied away from making them myself. It turns out there was no need to be scared. The batter comes together easily, and if you are smart about timing, they are quite easy to make. Of course, they are absolutely delicious.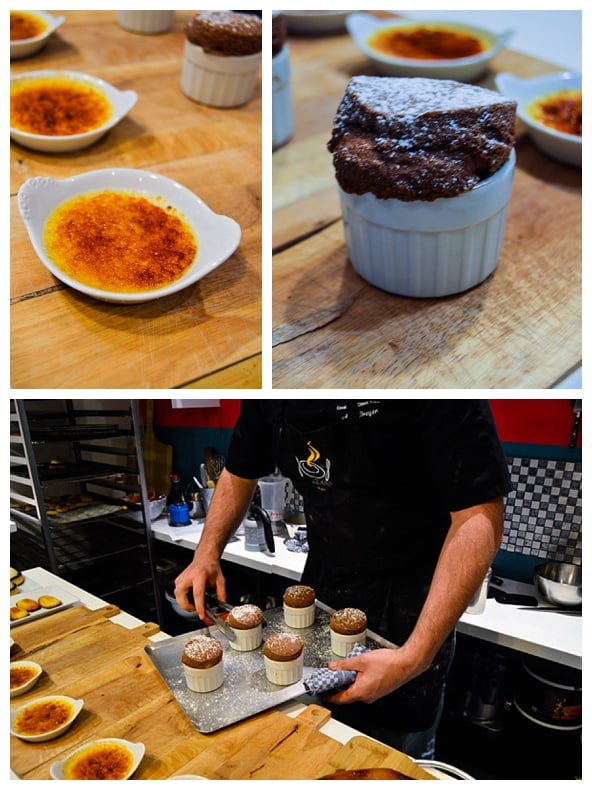 Without a doubt, this is the most beautiful tarte tatin I've ever seen. With a crisp, flaky crust and caramelized, tender apples, all of the components came together seamlessly. I could eat this for every meal.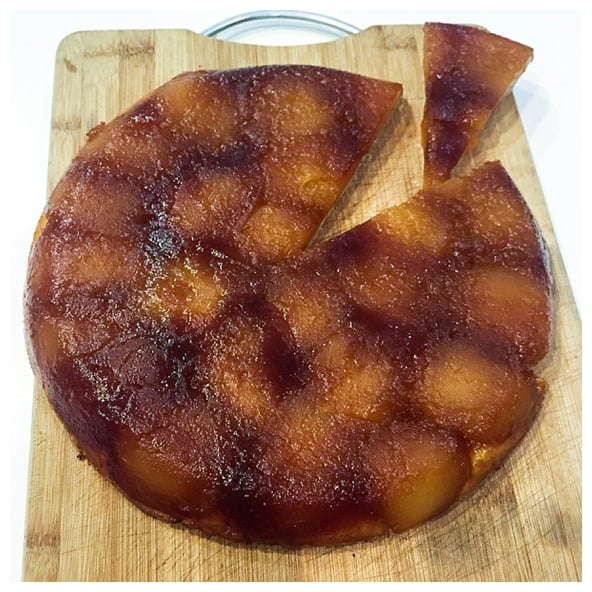 We laid all of the desserts out into a buffet at the end of class and admired our work. Of course there was ample time for shooting photos for social media.
After everyone got their photos, Instagrams, and Snapchats, we started tasting. We sampled everything and ate the crème brûlée and soufflés. Then, we were given boxes to take everything home. I went back to the hotel with quite a few madeleines, an entire tart, and several slices of tarte tatin. It didn't last long.
The recipes from the class were emailed to us and we were thoughtfully given a list of the Cook'n with Class Chef's favorite pastry shops in Paris.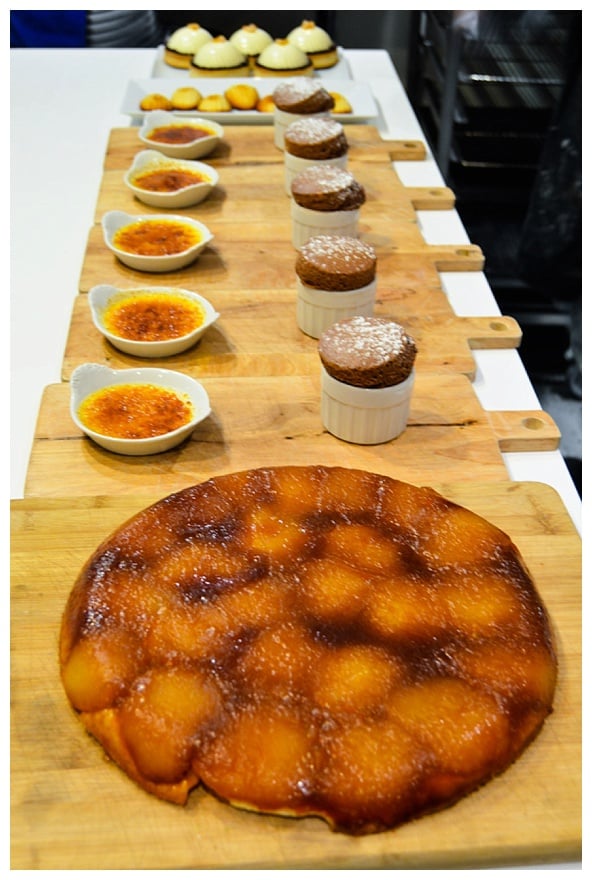 The afternoon I spent at Cook'n with Class is one of my best travel memories. It was everything that makes travel fun — learning, meeting new people, eating delicious food, and getting a bit outside your comfort zone.
I am already looking forward to taking future classes with Cook'n with Class. They are now a must-do on my Paris itinerary.
http://www.cooknwithclass.com/
6 rue Baudelique
75018 Paris
+33 (0)1 42 57 22 84
Cook'n with Class generously hosted me for this class but all opinions are my own. Be sure to check back soon for my recap of the Morning Market Class. 
For more on Paris: 
Paris for Beginners: Tips for Stress-Free Travel
My Favorite Foods to Eat in Paris
Europe Travel Journal: Paris (Part 1)
Europe Travel Journal: Paris (Part 2)
If you enjoyed this post, click here to subscribe to my mailing list and receive future recipes and travel posts in your inbox.
I'm working on The Hungry Traveler's Guide to Paris and will release it in the first part of 2016. Sign up here to receive updates on the release of the book.