Cucumber Salad with Garlic is an easy side dish that can be thrown together with just a few ingredients. It's flavorful and healthy and can be dressed up or down for any occasion. 
Scroll to the end of the post for a chance to win a copy of Phoenix Claws and Jade Trees: Essential Techniques for Authentic Chinese Cooking.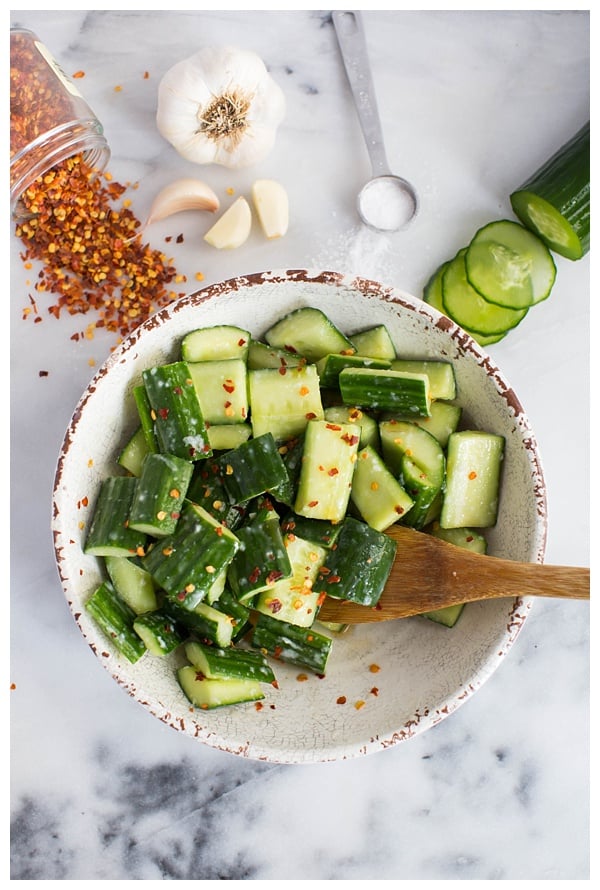 Earlier this year, I met Kian Lam Kho at a blogging event in Venice Beach, California. The workshop was on food writing, food photography, and video and several bloggers were invited to learn from the experts. Kian was there to do a cooking demo as the subject for our writing and photography.
The workshop was fantastic and I learned so much in just a few hours. Unfortunately, I was double booked that night and had to leave before dinner was served. Sadly, I didn't have a chance to try any of the food that Kian prepared!
My friend Jane of The Heritage Cook (you might remember her from her potato skins and her coleslaw) wrote a beautiful recap of our Magical Night in Venice Beach.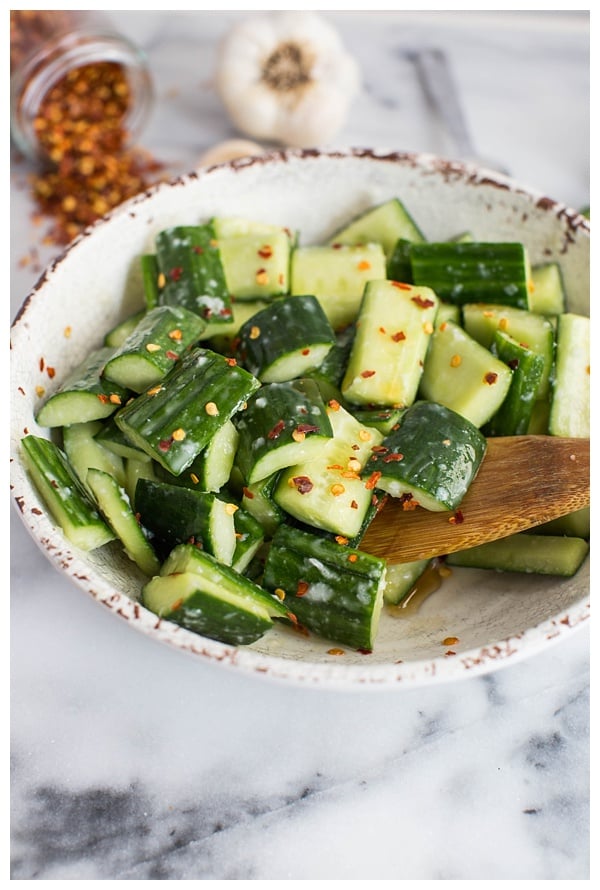 A few weeks ago, Kian invited me to participate in a blog event to promote his cookbook Phoenix Claws and Jade Trees: Essential Techniques of Authentic Chinese Cooking. I was thrilled to hear from him and agreed right away. I have actually been cooking quite a bit from his book (to make up for missing that dinner!) and was grateful for the opportunity to share his recipes on my blog.
First, I'm sharing the recipe for Cucumber Salad with Garlic. This is a simple recipe but shows how you can use Chinese flavors to take an ordinary cucumber salad and transform it into something special. This cucumber salad with garlic is a great dish to accompany a stir-fry or can be served on its own as a light salad or appetizer. You can have everything ready and throw it together right before serving. I added some red pepper flake to give it a bit of a kick.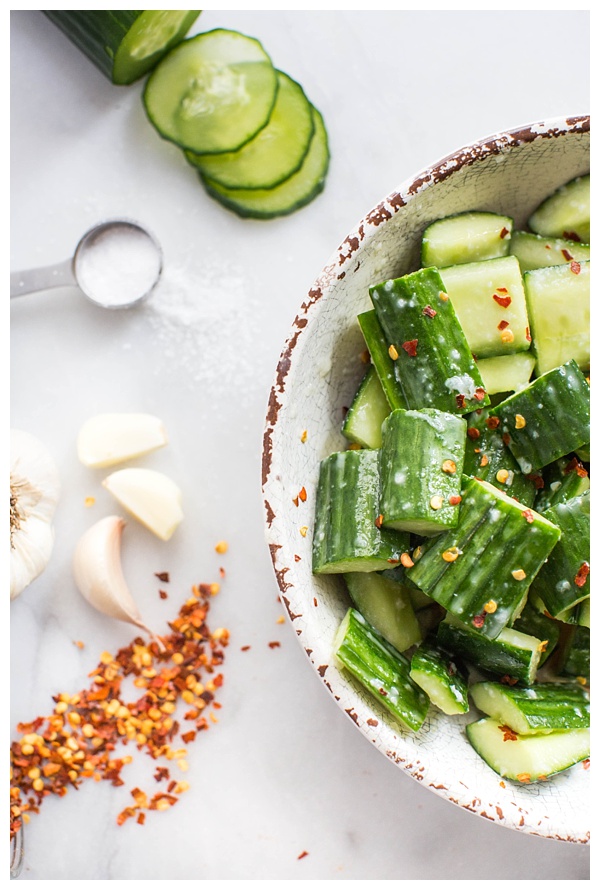 Phoenix Claws and Jade Trees is the perfect book for learning how to cook authentic Chinese food at home. The book teaches cooks how to get the complexed, nuanced flavors of Chinese cuisine right in their home kitchens. The book is broken down so that each chapter covers a fundamental technique of Chinese cuisine — pan-frying, oil-steeping, etc. — and teaches the reader exactly how to execute it via traditional Chinese recipes.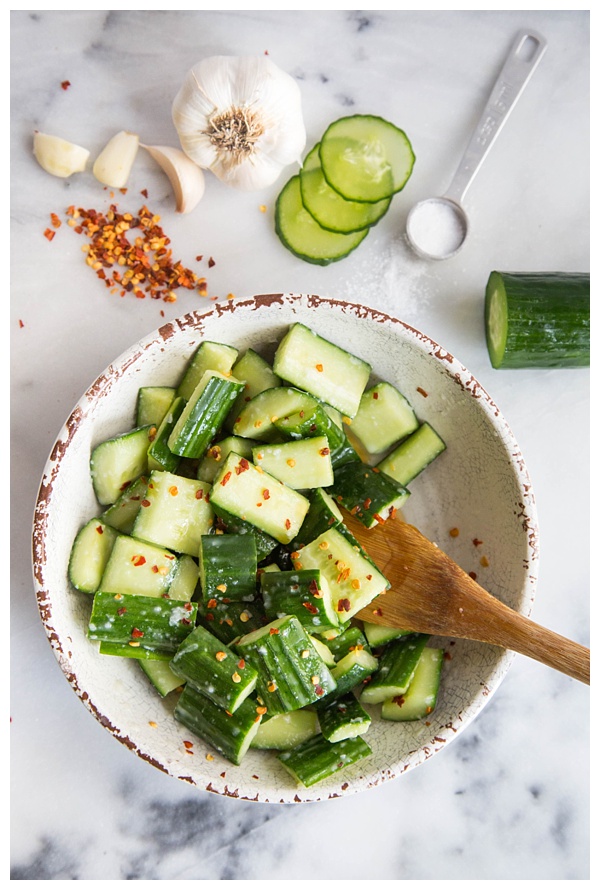 I love cookbooks but I often read them more for stories and flavor ideas than to learn new techniques. Given that I am professionally trained, I am confident in my ability to roast, sauté, or braise. However, Chinese cooking is a different story since the techniques are so different from how I usually cook.
Phoenix Claws and Jade Trees is the perfect place to start if you want to challenge yourself to learn more about authentic Chinese cooking. Not only did I learn new cooking techniques, but I also was introduced to new preparations and flavors. The recipes in this book challenged me in the best way. The techniques took me a bit out of my cooking comfort zone but Kian's strong writing was there to hold my hand and teach me along the way. His voice comes through in the recipes and I felt like he was in my kitchen with me.
Each recipe has taught me and made me a better, more well-rounded cook. And the best part is that I got to reward myself with the delicious results!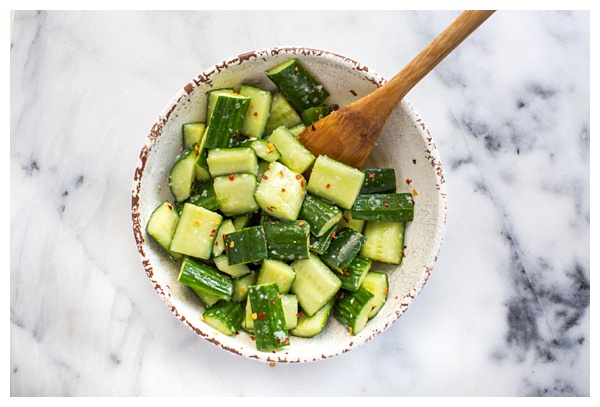 For a complete meal, serve the cucumber salad with garlic along with Kian's recipe for stir-fried beef with black pepper and some steamed white rice. It's a healthy, satisfying and authentically Chinese dinner!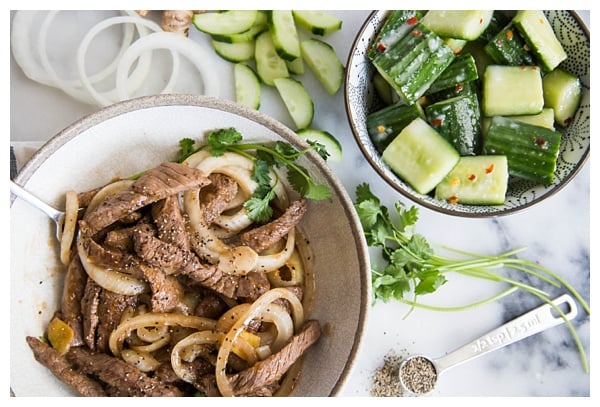 Cucumber Salad with Garlic Recipe
Kian Lam Kho - Phoenix Claws and Jade Trees
Cucumber Salad with Garlic
This cucumber salad is simple and can be made at the last minute. It can be eaten as is or used as a base for a more complex salad. Add some chile oil and it becomes a spicy salad. Add parboiled carrots, wood ear mushrooms, or peanuts and you have a mixed salad.
Ingredients
1 large hothouse or 3 small Persian cucumbers (8 ounces total)
1/2 teaspoon salt
1 tablespoon finely minced garlic
1 tablespoon toasted sesame oil
Optional -- 1/2 teaspoon red pepper flakes
Instructions
Quarter the cucumbers lengthwise and slice off the center portions to remove the seeds. (For large hothouse cucumbers you may want to further cut the quarters lengthwise into eighths.) Then cut the lengths into 2-inch-long pieces.
Put the cucumbers in a bowl, sprinkle with the salt and garlic, and mix well. Cover and refrigerate for 20 minutes.
When you are ready to serve the salad, drain the juice that the salt has extracted from the cucumber pieces, retaining as much of the garlic as possible, and arrange the cucumbers on a plate. Pour the sesame oil and red pepper flakes (if using) over the cucumbers and serve cold.
7.8.1.2
77
https://www.thehungrytravelerblog.com/cucumber-salad-with-garlic/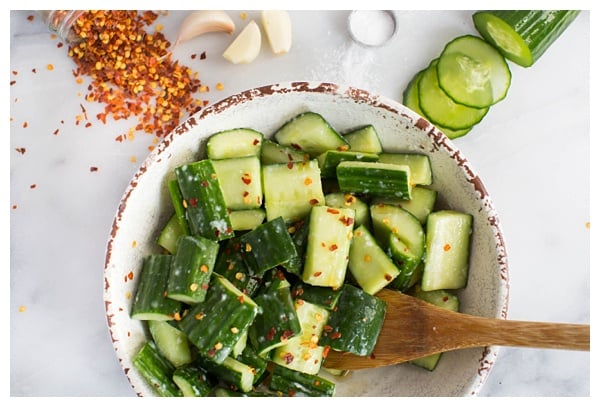 Phoenix Claws and Jade Trees Cookbook Giveaway
We are giving away 2 copies of Phoenix Claws and Jade Trees. To enter, simply comment on this blog post and tell us your favorite Chinese dish. Then, follow @JordanHamons on Instagram.
A winner will be picked on October 10th. The deadline for entering is October 9, 2016, at 11:59PM. Entries accepted from the USA only.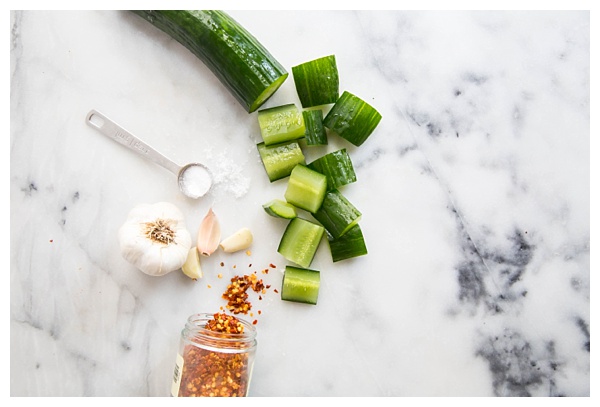 Writing: Jordan Hamons
Recipe: Kian Lam Kho // Phoenix Claws and Jade Trees
Photos: Becca Russo // RLR Creative